7

Debugging your future

It's all very well designing your future but now you need to actually engineer it by testing and building. An obvious place to start is with your CV or résumé, because that's where most people get going. How can you create a bug-free CV, résumé or completed application form? How can you support applications with a strong personal statement or covering letter? These documents are crucial part of your future so how can you debug them? 🐛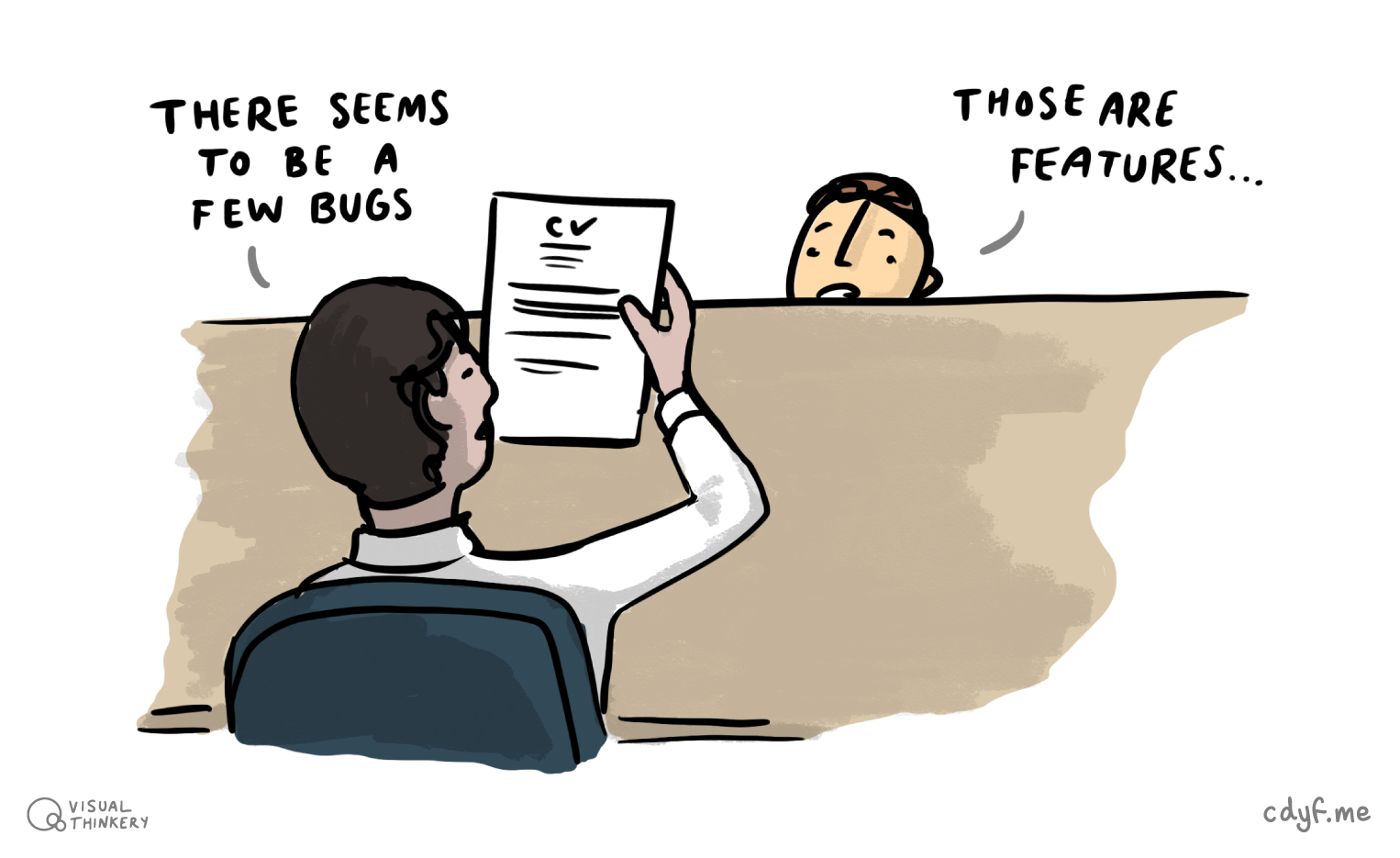 7.1

What you will learn

By the end of this chapter you will be able to
Structure and style the content of your CV and résumé appropriately
Articulate your story7 as evidenced by your experience, projects and education etc
Identify and fix bugs in CV's by:

Constructively criticising other people's CVs
Asking for, listening to, and acting on constructive criticism of your own CV

Quantify and provide convincing evidence for any claims you make you on your CV
Identify gaps is your CV and how you might begin to fill them
7.2

Beware of the black hole

Before we get started, let's consider some advice from software engineer Gayle Laakmann McDowell. Gayle is an experienced software engineer who has worked at some of the biggest technology employers in the world: Apple, Microsoft and Google. She has also authored a cracking series of books on technology careers, particularly Cracking the Coding Interview (McDowell 2015) which we'll discusses in chapter 10. Gayle refers to the employer "black hole" described in figure 7.2.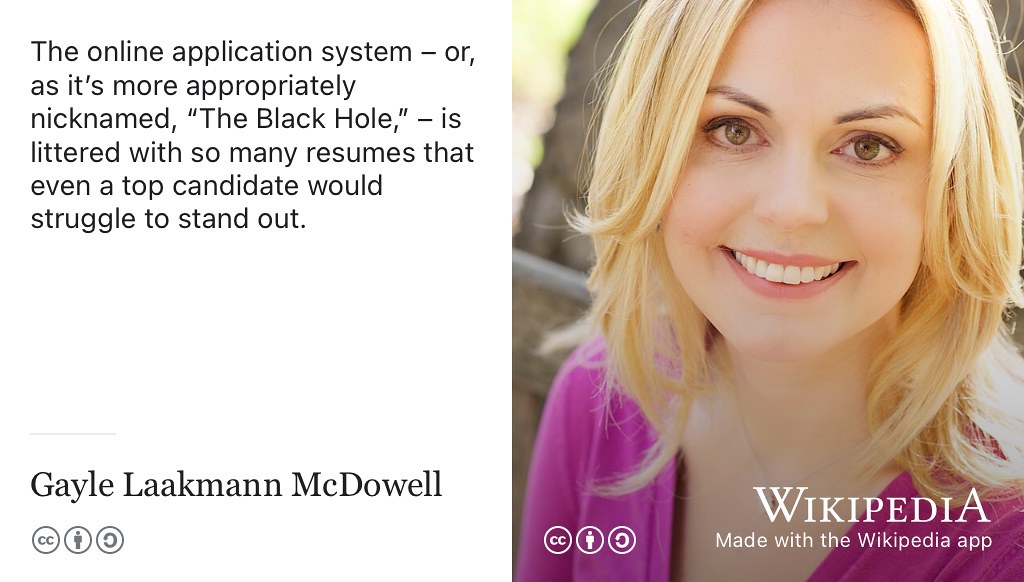 If you're applying to big employers, you'll need to create a CV that is good enough to stand out before it disappears over the event horizon and into an employers black hole, see section 8.4.8. Your CV or résumé needs to be good enough to persuade an employer to invite you to an interview. You can start with an employer-agnostic CV but you may need to come back and revisit the issues in this chapter once you have identified some target employers, so that you can customise and tailor your CV and written applications.
7.3

The CV is dead, long live the CV!

Résumés and CV's have reigned supreme in kingdom of employment and recruitment for many years but their demise has often been predicted, see figure 7.3.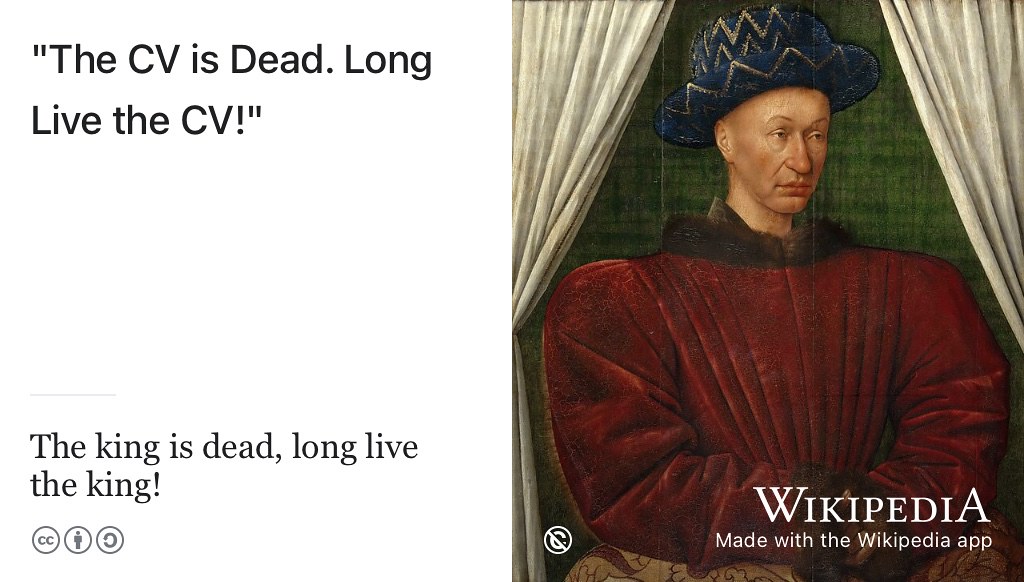 While it is true that some employers don't accept CVs or favour online application forms or digital profiles, it is still worth writing a CV because:
Your CV provides a record for you of relevant things you've done
Your CV enables you to get your story straight, What's your story, coding glory? see section 2.2.3 (Gallagher 1995)
Your CV forces you to articulate who you are and what you want, see chapter 2
Your CV helps you script and practice your "lines" for interviews, see chapter 10
Even if an employer never asks you for your CV, you'll frequently want to use the content of your CV in applications and interviews. So this chapter looks at how you can debug your written applications, whatever the mechanism is for submitting them.
You can of course augment your CV with various public digital profiles such as LinkedIn, Github etc. A public digital profile can help employers find you, see section 8.3.2.
Wherever you're putting information about yourself for potential employers, on a CV, Résumé, LinkedIn profile the same principles apply. See the checklist in section 7.9 and for specific advice on LinkedIn see:
7.4

It's not bug, it's a feature!

It's an age old trope in Computer Science that engineers use to cover their mistakes, passing off their accidental bugs as deliberate features of their work, see 7.4.
"It's not a bug, it's a feature…" —A. Hacker
Nobody likes buggy software, but unfortunately we routinely have to tolerate badly-designed, low quality, bug-ridden software in our everyday lives. (Mann 2002; Charette 2005)
In contrast, buggy CVs are rarely tolerated, they will usually end up in the bin. Even a tiny defect, like an innocent typo, can be fetal fatal. Most employers (particularly large and well known ones) have to triage hundreds or even thousands of CV's for any given vacancy. This means the person reading your CV is as likely to be looking for reasons to REJECT your CV, than ACCEPT it, because that's a sensible strategy for shortlisting from a huge pool of candidates. A buggy CV, application and covering letter could ruin your chances of being invited to an interview, see chapter 10.
Like writing software, the challenging part of writing a CV isn't the creation but in the debugging and subsequent re-writing. Can you identify and fix the bugs before they are fatal?
⚠️ Coding Caution ⚠️
If you ask three people what they think of your CV, you will get three different and probably contradictory opinions. CV's are very subjective and very personal. The advice in this chapter is based on common sense, experience and ongoing conversations with employers. What makes a good CV will depend on the personal preferences and prejudices of your reader. So, this chapter just describes some general debugging guidelines, rather than rigid rules.
It is good practice to triangulate responses from your readers. For example, if three different people point out the same bug in your CV you can be confident that it is a bug that needs fixing.
While referring to this guide, remember that:
The main purpose of your CV is to get an interview, not a job. Your CV should catch attention and provide talking points for an interview
Your CV will be assessed in seconds, rather than minutes so brevity really is key
Bullet points with verbs first (see section 7.7.4) will:
You're not trying to tell your whole life story from section 2.2.3 but to distill the essentials into several short stories which can be summarised into a handful of bullets or sentences. It's a bit like the blurb or synopsis on the back of novel, can you entice the reader into wanting to find out more (by inviting you to an interview)?
7.5

Is it a bug or a feature?

Wherever criticism of your CV comes from, don't take it personally - it is probably one of the first you have written. Think of your current CV as an alpha or beta version that you continuously test, release and redeploy. There are many chances to debug and improve your CV during your study but before potential employers read it. The aim of this chapter is to help you improve your CV, whatever stage you are at. Employers often grumble that Computer Science graduates lack written communication skills. Written applications and CV's are a common example of this.
7.6

Structure your CV

How you structure your CV will depend on who you are and what your story is. Recruiters at Google suggest four or five sections, that follow a header section. Before we look at those, lets look at some general points about CVs, watch the videos shown in Figure 7.5.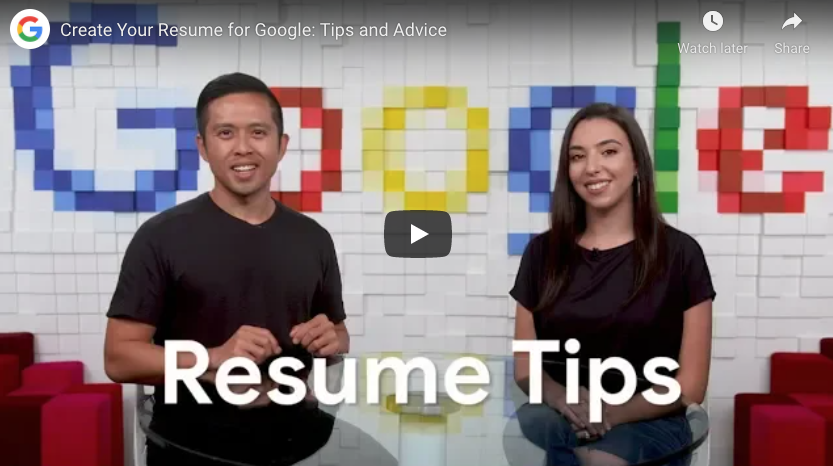 As Jonathan Black, director of the careers service at the University of Oxford has pointed out, (J. Black 2019b) a key part of your story that you want to communicate in your CV is that you :
take responsibility
achieve things
are nice to have around
How can you demonstrate this? Watch the short video in Figure 7.6.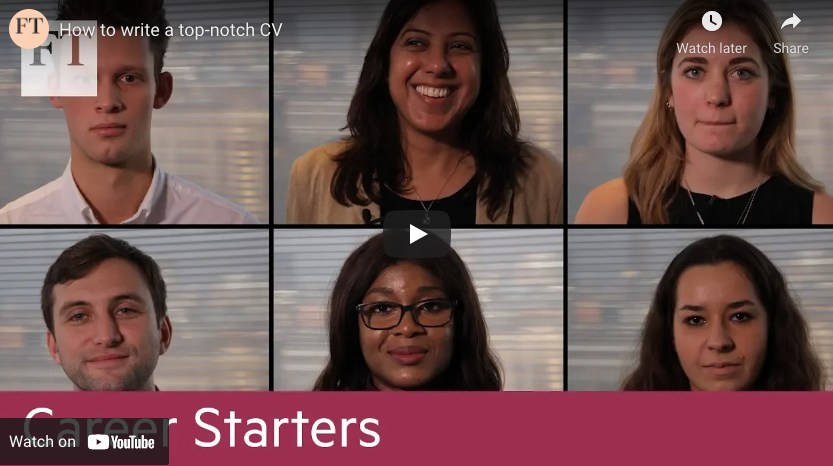 Quantifying and providing evidence for any claims you make will make your CV much more convincing. This can turn meaningless assertions described in figure 7.6 into meaningful evidence. So for example:
* 

Achieved excellent results
…is a bit vague, what were the results exactly, can you measure them somehow? Or at least describe them?
So you worked in a team? Worked is vague. What was your role and contribution exactly? How long did the project last? How many people were on your team? What was the result of your action? What's the story, coding glory? (Gallagher 1995)
7.6.1

Your header

The first thing in your CV is the header, a simple section giving your name, email, phone number and any links shown in the CV in figure 7.7 for Alan Turing. That's it!

Your header doesn't need to include any more information than your name, email, phone and any links. This means your birth date, marital status, photo8 and home address aren't relevant and you don't need to give multiple phone numbers or emails either, just one of each will do. If an employer wants to invite you to an interview, they'll get in touch by email, phone (or possibly LinkedIn, github etc) so other contact details such as your postal address are an irrelevant distraction at this point. After your header I suggest you have about five sections that cover some or all of the following:
Let's look at each of these sections in turn:
7.6.2

Your education

Unless you have significant amount of experience, the EDUCATION section of your CV is likely to be the first real section, after the header. Your education section needs to strike a balance between:
Describing in enough detail what you've studied and any projects you've completed at University as part of your formal education
Keeping it short and sweet by avoiding getting bogged down in tedious details
You've invested a significant amount of time and money in getting your degree. At this stage, your degree justifies more description than a terse one line BSc Computer Science. You'll need to:
say more than Pen Tester and Rick Urshion, who haven't said enough about their University education
say less than Mike Rokernel, who has given way too much information on his degree.
You don't need to name every single module and give a mark for each. Neither do you need to give your result to FOUR or FIVE significant figures: 71.587%9. Two significant figures will do just fine: 72% (first class). You might like to pick out relevant modules, or the ones you enjoyed most. Employers like Google encourage applicants to emphasise courses on data structures and algorithms, but you'll need to tailor your description to the role and be brief. On a one page CV, you might only have two or three lines to describe your higher education. 🎓
7.6.3

Your experience

Experience is where you can talk about any paid or voluntary work experience you have. For paid work call it EXPERIENCE rather than WORK EXPERIENCE as the latter can imply work shadowing, see section 5.3. Work shadowing is valuable, but paid work is even better so you should make it clear if your experience was paid or not. Don't discount the value of casual labour, such as working in retail or hospitality, these demonstrate your work ethic and ability to deal with customers, often under pressure. You are more than just a techie too, so anywhere you've worked in a team is experience worth mentioning, even if that team was just two people. Two people is still a team.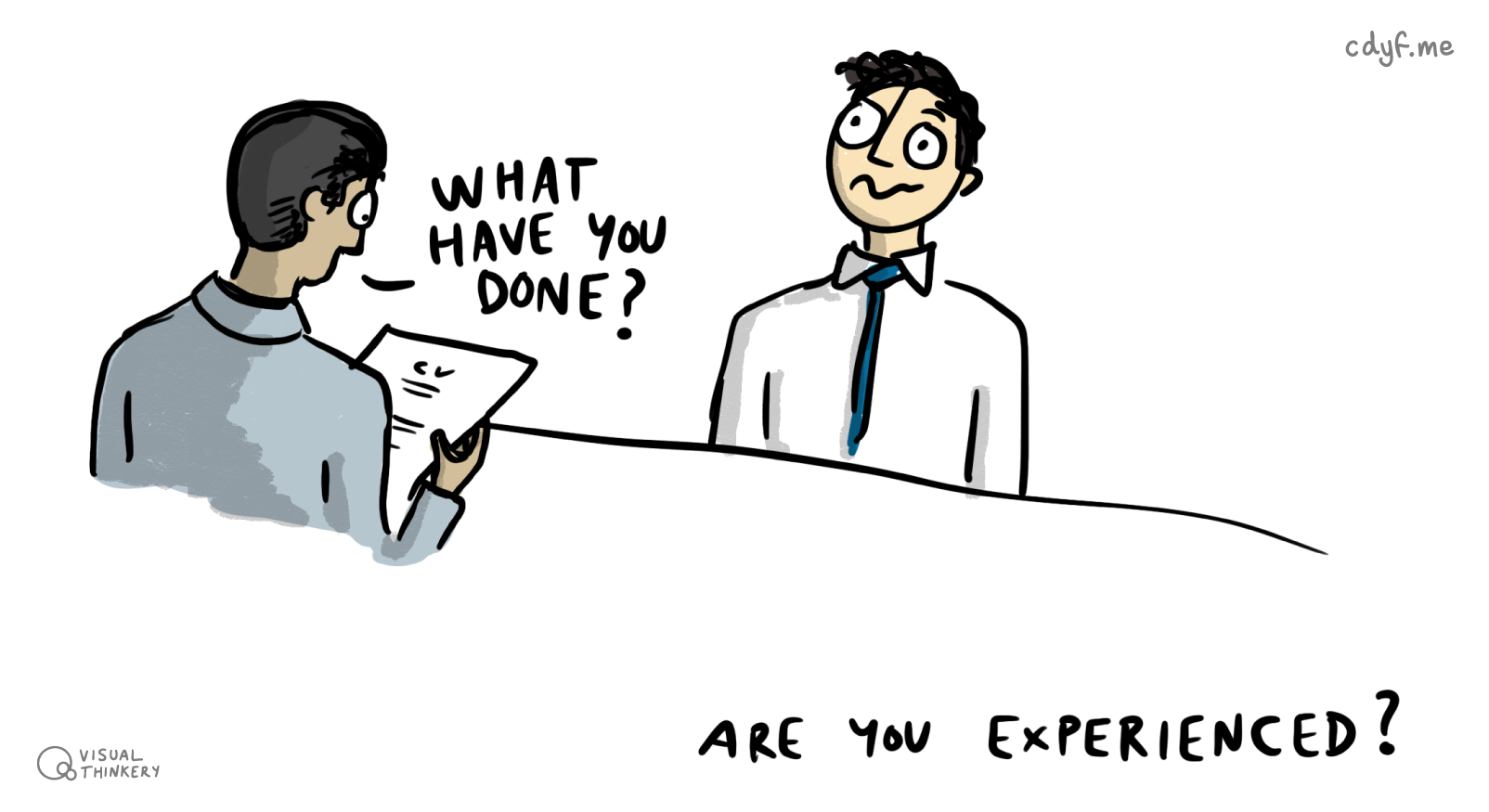 If you don't have much experience, don't worry, there are plenty of opportunities to get some. For details, see chapter 5 experiencing your future.
Are you experienced? Whatever it is, make sure you add it to your experience section. 💰
7.6.4

Your projects

The PROJECTS section of your CV is a where you can describe all other things you get up to. These might include:
personal side projects
social responsibility projects
open source projects
entrepreneurial projects
University projects (although these might fit better in your Education section)
Your projects will most likely be unpaid because paid work tends to fit better under the heading experience, see section 7.6.3. Perhaps you've completed some courses outside of your education such as a massive open online course (MOOC) or similar. Hackathons and competitions, fit well here too. (Fogarty 2015) You don't need to have won any prizes or awards, although be sure to mention them if you have. Participating in hackathons and competitions clearly shows the reader that you enjoy learning new things. Demonstrating an appetite for new knowledge and skills will make your application stand out. If you're looking for some inspiration for side projects, the codecrafters-io/build-your-own-x repository is a good starting point. Building and creating new things is a great way to understand them, just ask Richard Feynman shown in figure 7.9. What you cannot create you do not understand. One way of doing this is with open source projects which we describe in section 5.3.3.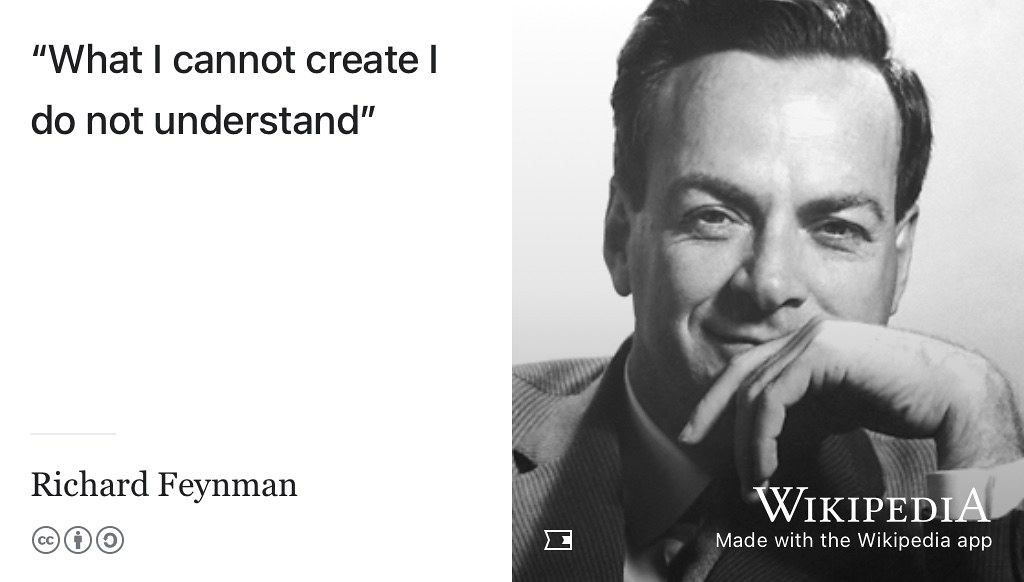 Any longer projects you've done at University are worth mentioning. Your projects are important because they differentiate you from everyone else in your year group. Try to be more descriptive than this:
* 

First year team project
or perhaps
* 

Second year team project
or even just
By themselves, those project names are pretty opaque. They are OK for giving the context of your story but don't give the reader much else to go on. What was the story (the context, action, result and evidence (CARE) we described in section 7.7.2) of those projects? How many people were in your team? How long did you collaborate for? What did you build? What was it called? What did it do? What roles and responsibilities did you have in the team? Was their conflict in the team? How did you resolve it? How did you motivate the free-riders in the team to contribute? This is all excellent CV fodder, see 7.10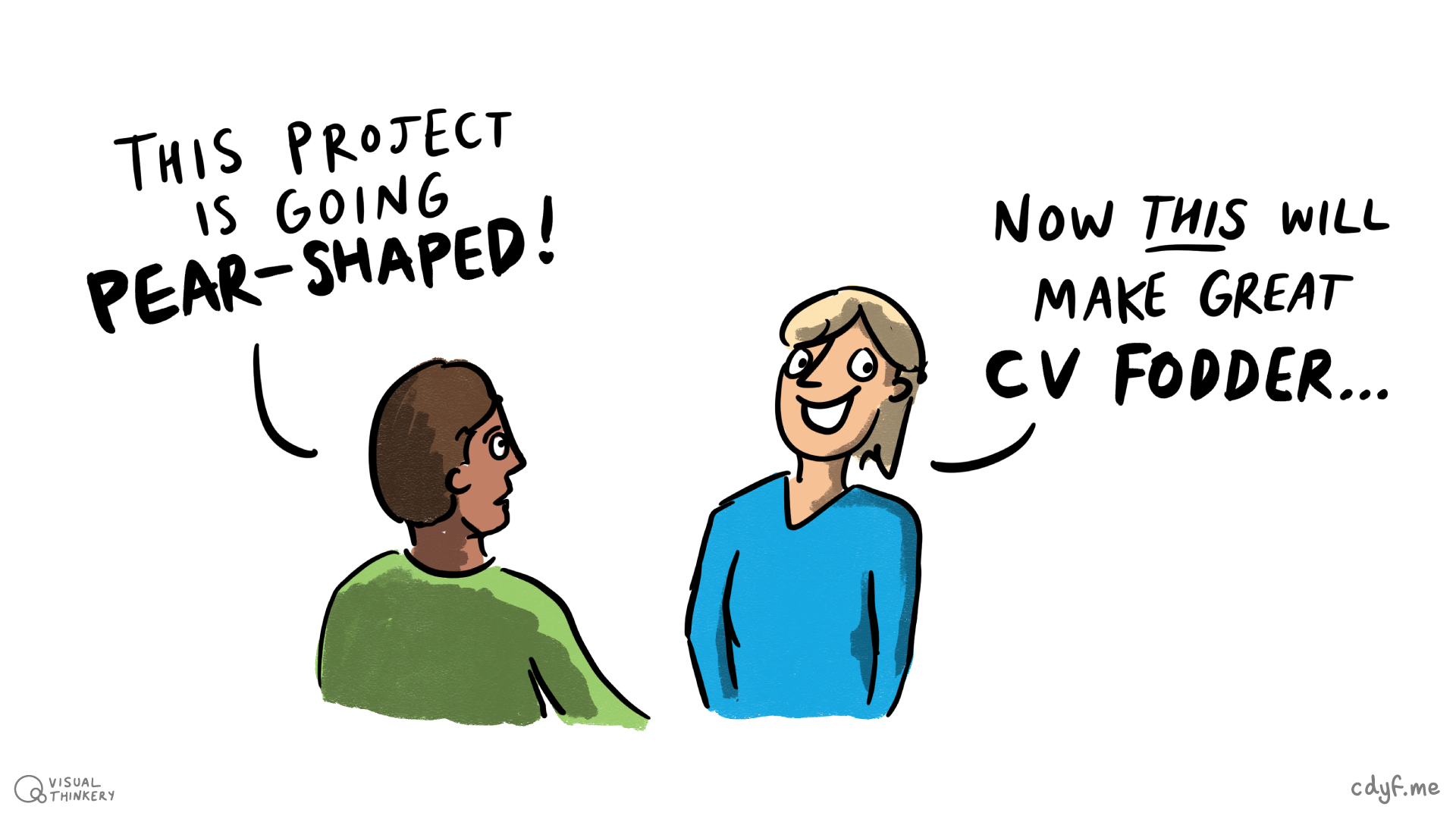 It's often better to describe what YOU did before you describe what the software, hardware or project did. Your reader is much more likely to be interested in the former than the latter. Let's imagine you've developed a piece of software called WidgetWasher. You might describe it like this:
* 

WidgetWasher is a web service that washes widgets


* 

Makes use of an HTTP API and secret keys


* 

Tested WidgetWasher on a range of different operating systems


* 

Collaborated with one other contributor over two days


* 

Designed and implemented an API
Instead, you could reverse the order to change the emphasis like this:
* 

Designed and implemented an API


* 

Collaborated with one other contributor over two days


* 

Tested WidgetWasher on a range of different operating systems


* 

Makes use of an HTTP API and secret keys


* 

WidgetWasher is a web service that washes widgets
The latter has all the same information, but by reversing the order, you've emphasised what you did, rather than what the software did. 💪
7.6.5

Your leadership & awards

If you can demonstrate leadership, you may want to dedicate a whole separate section for it. If you have experience of tutoring or mentoring other students, perhaps younger ones, make sure you highlight it as leadership. Teaching is a different kind of leadership to running a small business or captaining a sports team, but it is leadership nonetheless.

A leadership section is also a good place to add any prizes you've won. If you've been granted any interesting awards or honours be sure to mention them. You'll typically need a bit more than:
* 

Awarded the Poppleton University scholarship for excellence
Congratulations, but how many people were awarded that prize? How many applicants or entrants were there and what percentage were successful? Was it a regional, national or global award? How frequently is the award given? It is unlikely that your reader will have heard of the award unless it is widely known. So if you're going to mention awards, give the context where you can so the reader can understand what the prize was for. 🏆
7.6.6

Your optional extras

If you have anything else you want to highlight besides your education, experience, projects and leadership and awards you may still have room for one more optional extras section. Try to come up with a better name than Miscellaneous, Extracurricular or Other highlights, which sound like dumping grounds for the leftovers. You might decide to have a dedicated skills section but see section 7.6.7.

You may opt to have a hobbies and interests section which can add a bit of colour to what can otherwise become quite a dull list of facts. However, it is debatable how many (if any) hobbies and interests you should list on your CV. For a one-pager you're usually pushed for space and looking for things to edit out (rather than add in), so if you're going to list hobbies, I'd stick to those that are relevant to the job or those that demonstrate particular transferrable or soft skills. Organising or participating in team sports is a good example of a relevant hobby as it provides evidence of your teamwork, commitment, reliability etc, see figure 7.11. Other collaborative activities outside of sport will also demonstrate your communication skills. (Cheary 2021)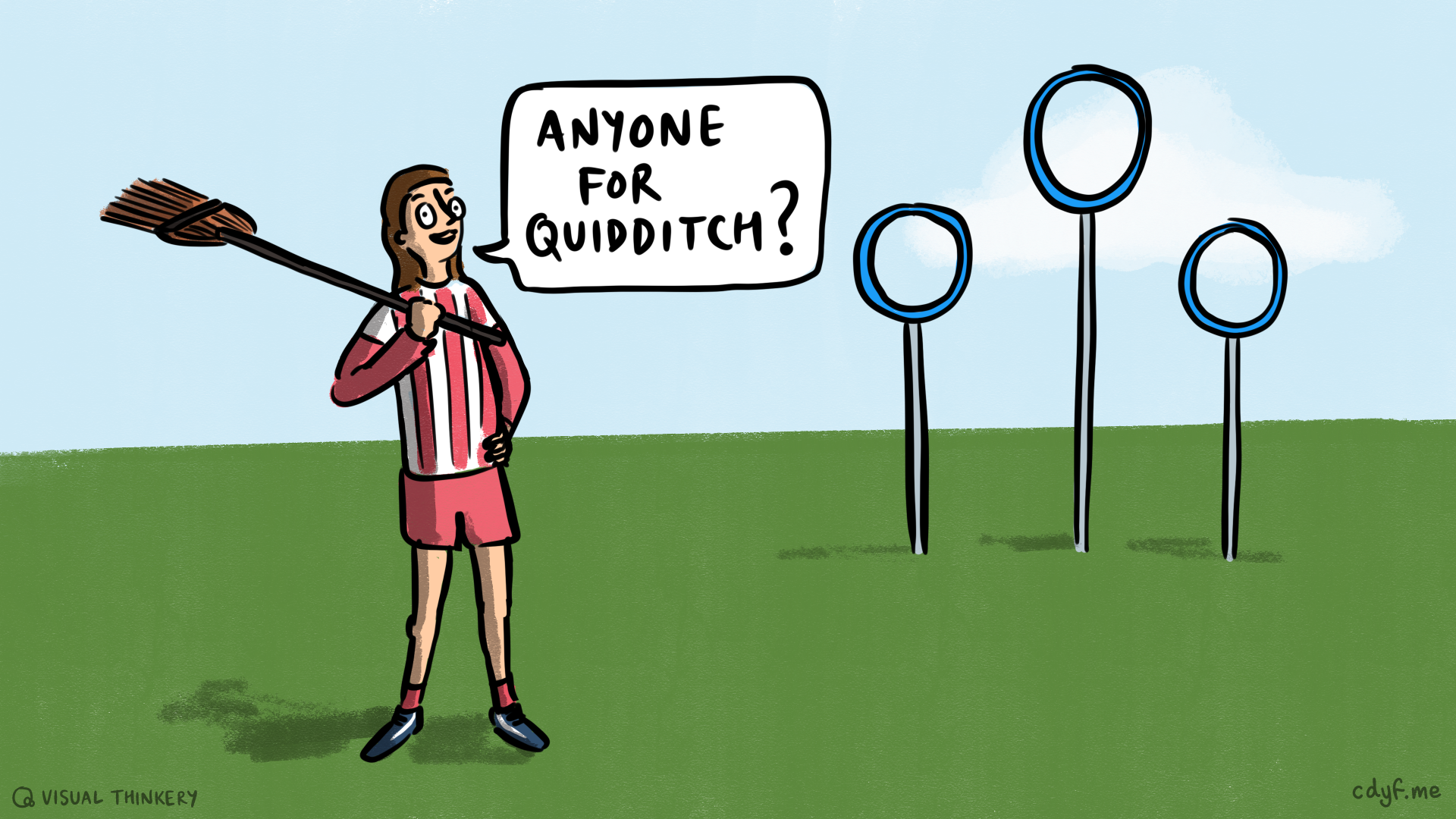 The fact that you enjoy swimming, reading, football, cooking and hiking is a vague and pretty boring, making it unlikely to be a factor in the decision to invite you to interview. There's nothing wrong with these pastimes but there's not much point mentioning them on your CV unless you have, for example:
coached a swimming team
trained as a mountain leader
organised, hosted and participated in a book club
regularly participated in or organised competitive sports matches (for example)
In this case, the way you have engaged with your hobbies demonstrates your communication and leadership skills. So in this context, your hobbies are worth talking about if you have any space left. However, if they are just hobbies that enable you to amuse yourself, you should probably leave them out as they are unlikely to be of interest to an employer. Sure, they add colour to your CV, but you've probably got more interesting and important things to say about who you are.
Of course, you might get lucky and your interviewer could be intrigued (or even share) your esoteric passion for Quidditch (say), but you can't rely on it. So, I reckon if you're going to mention hobbies and interests at all then …
pick the unusual hobbies that make you unique
describe the interests that add some colour and personality to your CV
be specific, e.g. reading japanese novels from 20th century might sound more interesting than just reading
highlight any actions you've taken, see chapter 18
… or just leave them out altogether. That option is up to you.❓
7.6.7

Your skills?

You may be tempted to dedicate a whole section on your CV to skills, particularly the technical ones. Maybe it makes you feel good listing them all in one place like a stamp collection. If you're going to have a skills section, keep it short. Why? Let's imagine, that like Rick Urshion, you include Python in a long list skills, with its own dedicated section. There are at least five problems with Rick's not so skilful approach:
❎ No Context to give the reader an idea of where he's developed or used his Python skills. Was it during his education, as a part of his work experience or his personal projects? We don't know because he doesn't say.

❎ No Actions to demonstrate what he's done with his Python skills. So Rick claims he knows Python. So what? What did use them for? We don't know because he hasn't told us.
❎ No Results given for what the outcome of using the skills was. Did he save his employers some money? Did he make something more efficient? Did he learn some methodology? We will never know.

❎ No Evidence to support his claims. Perhaps he DOES have Python skills, perhaps he DOESN'T. Is he telling lies and peddling fake news (see section 8.4.4)? It's difficult to tell.
❎ No C.A.R.E. There's no story told for that skill, see figure 7.12. This makes for a very dull and boring read. Yawn. NEXT! 🥱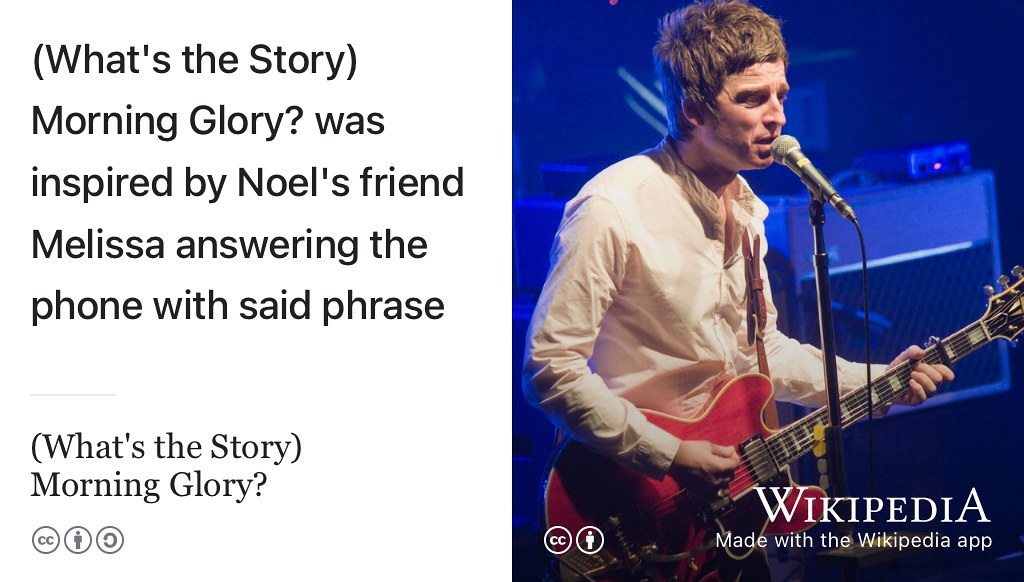 So, this doesn't mean Rick shouldn't mention his Python skills. Where he can, he needs to give us the context, action, result and evidence (C.A.R.E.) of his story described in section 7.7.2. This will make his Python story much more convincing and interesting to read. Showing a bit of C.A.R.E. will improve his chances of being invited to interview.
This applies to soft skills too, not just hard technical skills. Best to mention the context in which you've used any skills you mention on your CV. So, if you're going to have a skill section:
keep it short (one or two lines maybe) but personally I'd avoid dedicating a whole section to it
stick to your strongest and most relevant skills that you are comfortable to answer questions on in your interview, rather than an exhaustive encyclopædic inventory
avoid listing mass marketed office products of Microsoft (e.g. Word etc) as a skill, they are not generally very interesting skill because almost everyone has them. They won't set you apart much from your competition, so don't waste valuable space talking about office unless you've done something interesting with them, like some advanced integration with other software. Cloud services can be a slightly different matter, see section 11.4.1.
If you're a computer scientist, you also have demonstrable meta skills like the ability to learn things quickly. You can also think logically and critically, reason, problem solve, analyse, generalise, decompose and abstract - often to tight deadlines. These computational thinking skills are future-proof and will last longer than whatever technology happens to be fashionable right now. Employers are often more interested in these meta capabilities and your potential than in any specific technical skills you may or may not have.
7.7

Birds eye view

Having looked at the sections you're likely to have, we'll take a birds eye view of your whole CV. The issues in this section apply to the whole of your CV, rather than individual sections.
7.8

Breakpoints

Let's pause here. Insert a breakpoint in your code and slowly step through it so we can examine the current values of your variables and parameters.
7.9

Checklist: Big Bad Bugs

Here is a quick check-list for debugging your CV before you send it off to an employer: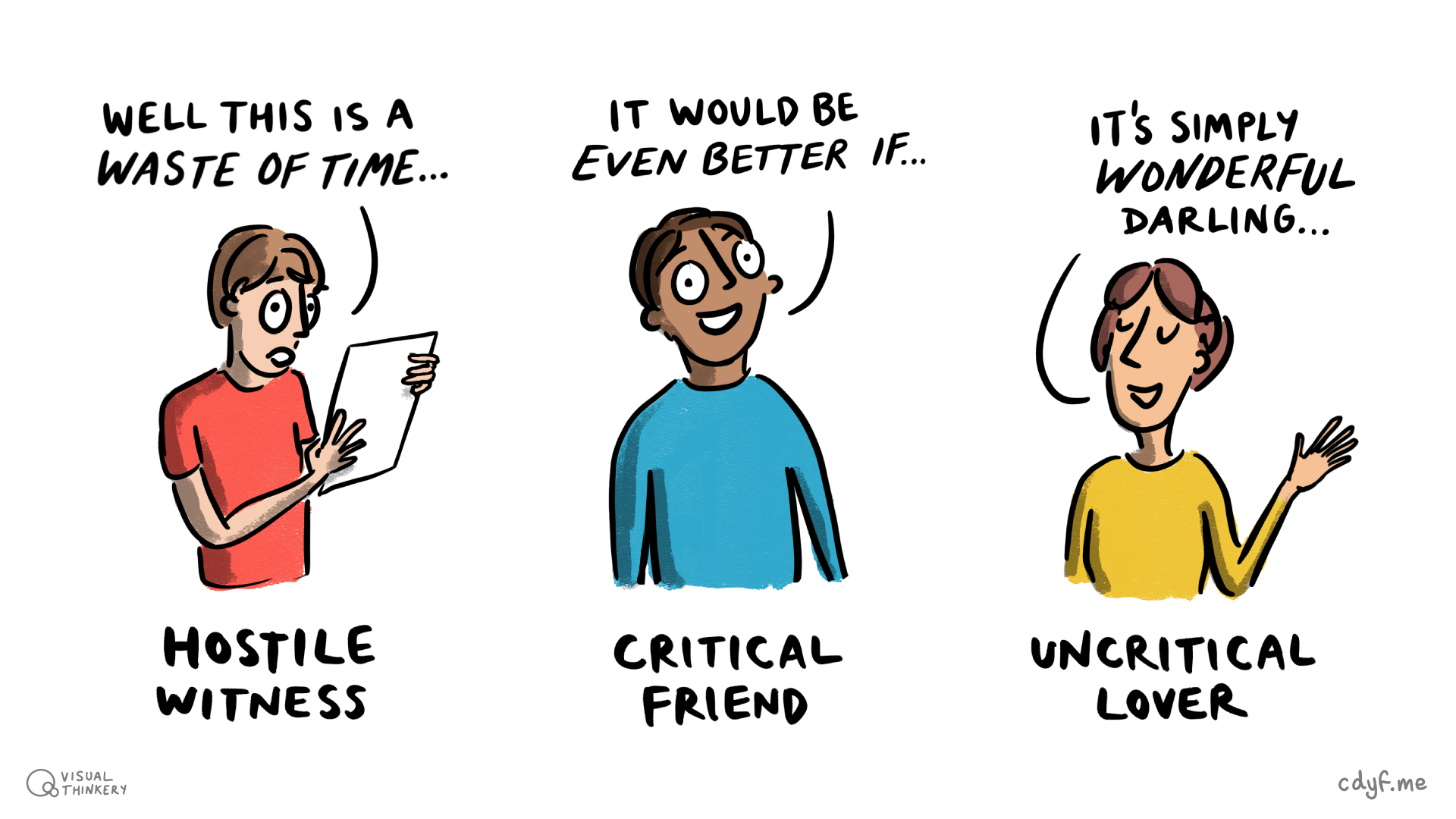 7.10

Covering letters & personal statements

Applications and CV's are often accompanied by covering letters or include some kind of personal statement. Whereas a lot of your CV is essentially a bulleted list of facts and statements, a covering letter or personal statement gives you a chance to really demonstrate your fluent written communication skills in clear prose. If you're going to have a personal statement or profile on your CV keep it short, unlike Mike Rokernel who waffles on for ages without providing any evidence. Usually this kind of information is better in your covering letter.

Let's say you're applying for a widget engineering position at widget.com. There are three things you need to cover in this order:
Why them? Why are you applying to widget.com
Why that role? Employees of widget.com have many roles and responsibilities but what is it about widget engineering (say) that attracts you?
Why you? Why should widget.com employ you? What skills and experience make you stand out from all the other candidate widget engineerings? What are your Unique Selling Points (USPs)? Say why you would be good for them (not why widget.com would be good for you and your career).
You can see some examples of answers to these questions at:
7.10.1

Does anyone actually READ covering letters?

Some employers will read your covering letter very carefully, others less so. It is not always clear which employers will bother and which won't.

Even if nobody reads your covering letter, it is still worth writing one because formulating answers to the three basic questions in section 7.10 will force you to rehearse standard interview questions.

Think of your covering letter as practicing some of the lines of your elevator pitch.
7.11

Debugging summary

Too long, didn't read (TL;DR)? Here's a summary:

In this chapter we have looked at how to debug your CV. If you fix the bugs we've described here, before an employer sees your CV, you'll stand a much better chance of getting an interview. The checklist above in section 7.9 is a good place to start.