11

Finding your future

So, you've successfully debugged your CV, with help from chapters 8, 9 and 10. You've reflected on who you are in chapter 2 and identified where you can improve your experience as described in chapter 5. Now, how can find an interesting job? How can use your CV, covering letter and any other (mostly written) communication to persuade employers to invite you to an interview? What techniques exist and how can you use your networks to help you? Where can you look? This chapter will help you find your future. 🔭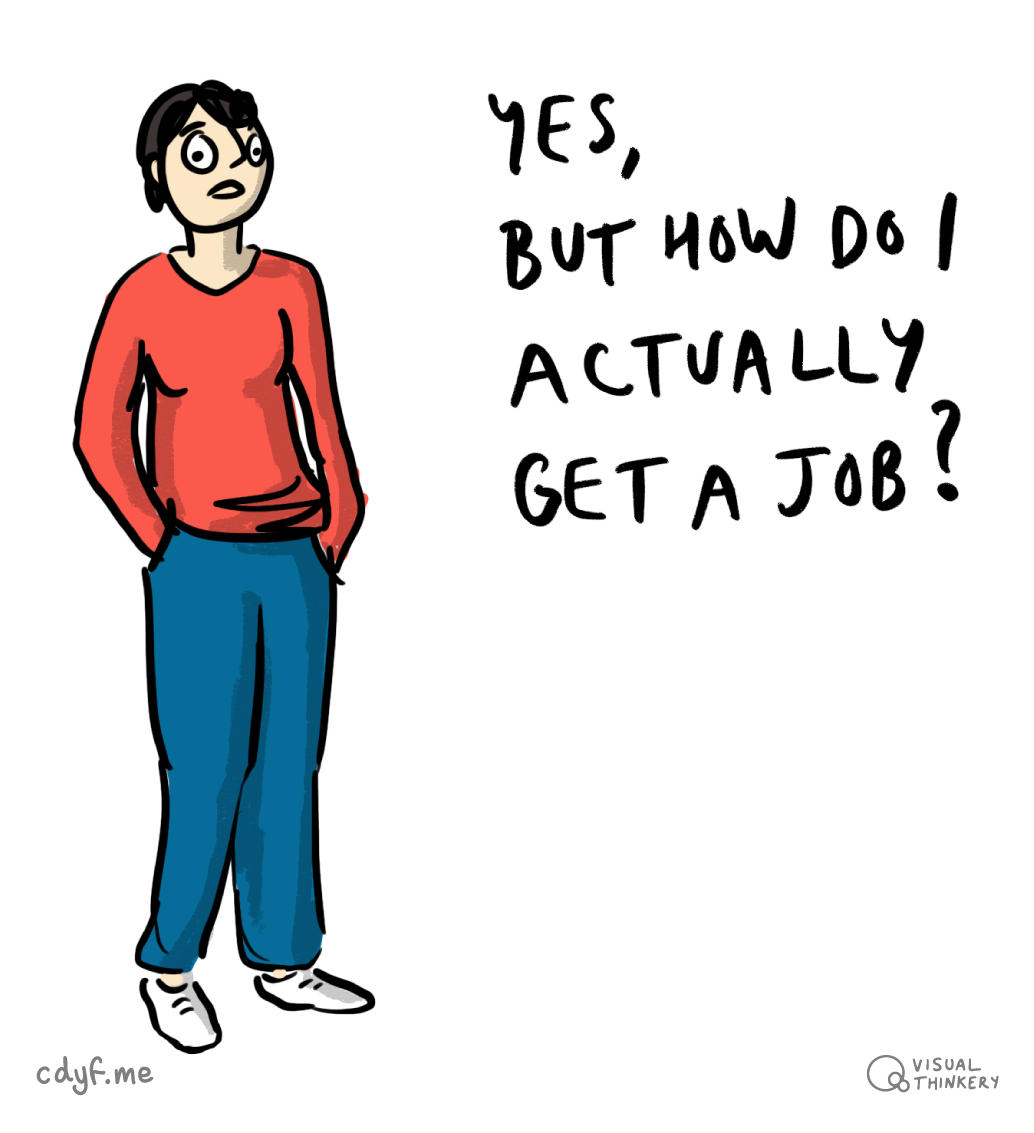 Your future is bright, your future needs finding, so let's start finding your future.
11.1

What you will learn

At the end of this chapter you will be able to:
Formulate job search strategies:

by role, sector, skills, time, size, quantity, values, culture, network, salary and location

Apply your search strategies to advertised (and unadvertised) opportunities

Identify opportunities for finding work, online and face-to-face
Identify people in your existing networks who can help you
Grow your networks and use them to your advantage

Describe some of the problems with recruitment:

for employers
for potential employees (like you)
Critically evaluate what employers have on offer (beyond the financial incentives)
11.2

Job search strategies

Before we look at where to look for jobs, we need to discuss what to look for. Let's imagine there is a handy AI-powered function in python called find_jobs() which knows everything about:
all the jobs available, regardless of where they are advertised, including hidden ones (see Jonathan's story of finding hidden jobs in chapter 26)
all of your skills, knowledge, values and ambitions
every employer in the world, their services, products and values
everyone in your social and professional networks, right from first degree connections through to sixth degree connections (Bacon 1994)
Such a function doesn't really exist yet, but let's pretend that it does to illustrate some points about job searching. If you were to run the function with no arguments…
…you will be completely overwhelmed with the results. It can be bewildering knowing where to start your job search, because the possibilities are endless. Your search space is huge.
Thankfully, we can break it down, but there are many parameters and variables in your search that you need to think about. Here are some basic strategies to help you start to decompose the complex problem of job hunting into smaller, more manageable problems you can start to tackle. We've already mentioned some:
Each strategy has is own strengths and weaknesses, so you'll probably want to combine more than one and experiment with different strategies as your search progresses over time. No doubt, you'll have some extra strategies of your own, this is not meant to be an exhaustive list, just a starting point:
11.3

Where can you for look for jobs?

Using our fictional find_jobs function we've described and discussed some basic strategies to get you started. Sadly no such function exists yet, so armed with a rough idea of what you're looking for, where can you actually look?

The marketplace for job searching and job hunting advice is incredibly overcrowded. Employers spend huge amounts of money on recruitment and this is reflected in the enormous range of jobs boards, which are often accompanied by advice on job hunting. There are five kinds of places you can look for jobs:
11.4

Buyer beware

When you're looking for job you're acting as both a buyer and a seller.
SELLING: You're selling your services in a marketplace, for the best price you can get
BUYING: You're buying into the culture and values of an employer (see section 6.6), who are trying to sell themselves to you.
As a buyer and seller, you should be wary of the following:
11.5

Breakpoints

Let's pause here. Insert a breakpoint in your code and slowly step through it so we can examine the current values of your variables and parameters.
What are your current job search strategies?
How could they be improved or tuned?
How many jobs should you apply for?

What are the strengths and weaknesses of using each of the parameters of find_jobs described above?
Why is it important to build your network?
How can recruiters help you?
Why do recruiters have a bad reputation?
How long does it take to apply for a job?
Should I optimise for quality or quantity of job applications?
How can you deal with the inevitable rejections that come during job hunting?
11.6

Summarising your job search

Too long, didn't read (TL;DR)? Here's a summary:

Your future is bright, your future needs finding. Finding your future will help you to test your future. Testing your future will help you to start coding your future.
We've discussed some of the problems with recruitment, both for employers and prospective employees like you. Knowing about these limitations will help you navigate them during your job search
We've looked at job search techniques that will help you find opportunities you care about. Figuring out what you want to do is tricky at times but it usually works out well in the end.
Before applying the search criteria, making successful applications to get that interview offer, there's more search techniques we need to look at. In the next part, chapter 12: Moving your future, we'll look at three of most important search criteria of all: location, location, location.
This chapter is under construction because I'm using agile book development methods, see figure 11.25.