3

Nurturing your future

It doesn't matter if you are a student, an employee or even both at the same time. To be successful at studying or working, you need to take your well-being seriously. By well-being, I mean your health and happiness. Your health isn't just about your physical health but also your mental health and the two are very closely linked. It's all too easy when you are busy or stressed to neglect your well-being and then bad-stuff™ happens. This chapter looks at your well-being, and how you can nurture it. Because looking after yourself now will also nurture your future. 😀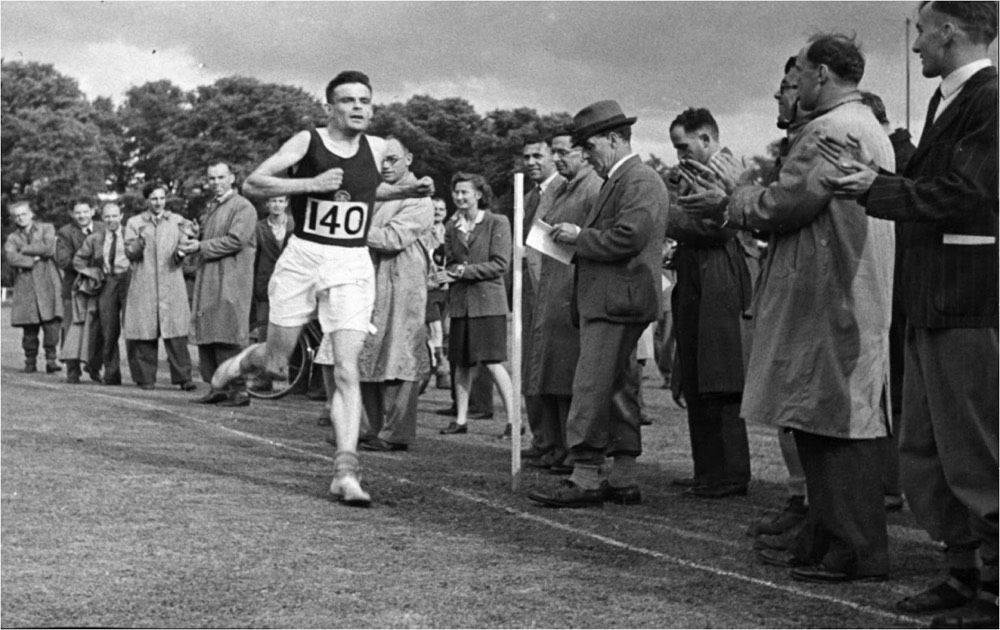 3.1

What you will learn

By the end of this chapter you will be able to:
Identify some of the symptoms of mental ill health in yourself and your peers, particularly anxiety and depression
Describe five self-help techniques for improving mental health
Describe services and other people you can approach if you (or someone you know) is being affected by mental ill health and self-help isn't enough
Schedule activities for improving mental and physical health into your daily or weekly routine
⚠️ Coding Caution ⚠️
I am neither a medical doctor or a psychologist!
This chapter is based on personal experiences of clinical depression and the experience of close friends and colleagues who have been affected by generalised anxiety disorder.
So this chapter gives you a quick overview of mental health and points you to where you can find out more. If you are affected by mental ill health, you should speak to a trained professional.
3.2

Mental ill health

Stress can lead to many kinds of ill health. Turing was put under lots of stress by his government bosses, people like Alastair Denniston and Stewart Menzies. (Tyldum 2014) When asked why he punished himself so much in training, Alan Turing's reply is shown in figure 3.2.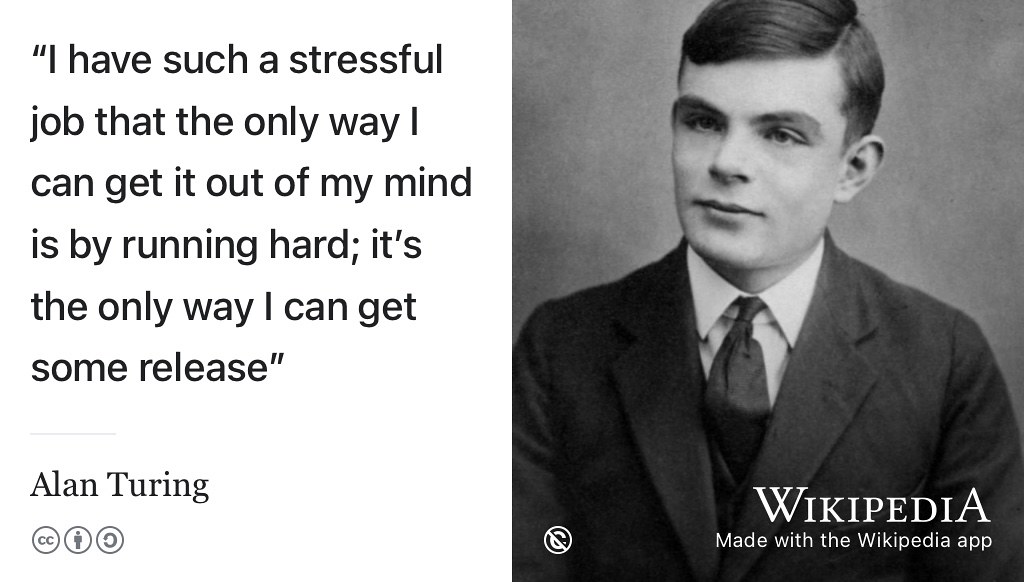 University is a positive experience for many people, however like Alan, you may also experience periods of stress. This may also be accompanied by anxiety, loneliness and depression. Financial, social and academic pressures alongside concerns about employability, an ongoing pandemic of COVID-19 and climate change etc can all have an impact on your wellbeing. Statistically, one in four of us will be affected by mental ill health during our lifetime. Two of the most common forms of mental ill health are:
Anxiety: persistent feelings of unease, such as worry or fear
Depression: a low mood that lasts for a long time and affects your everyday life
The persistent and lasting a long time are important here because while its part of the human condition to worry and feel low, that doesn't necessarily mean you are affected by poor mental health. There are many forces at play, feelings of sadness or anxiousness are normally balanced out by counteracting feelings of calm or happiness shown in figure 3.3.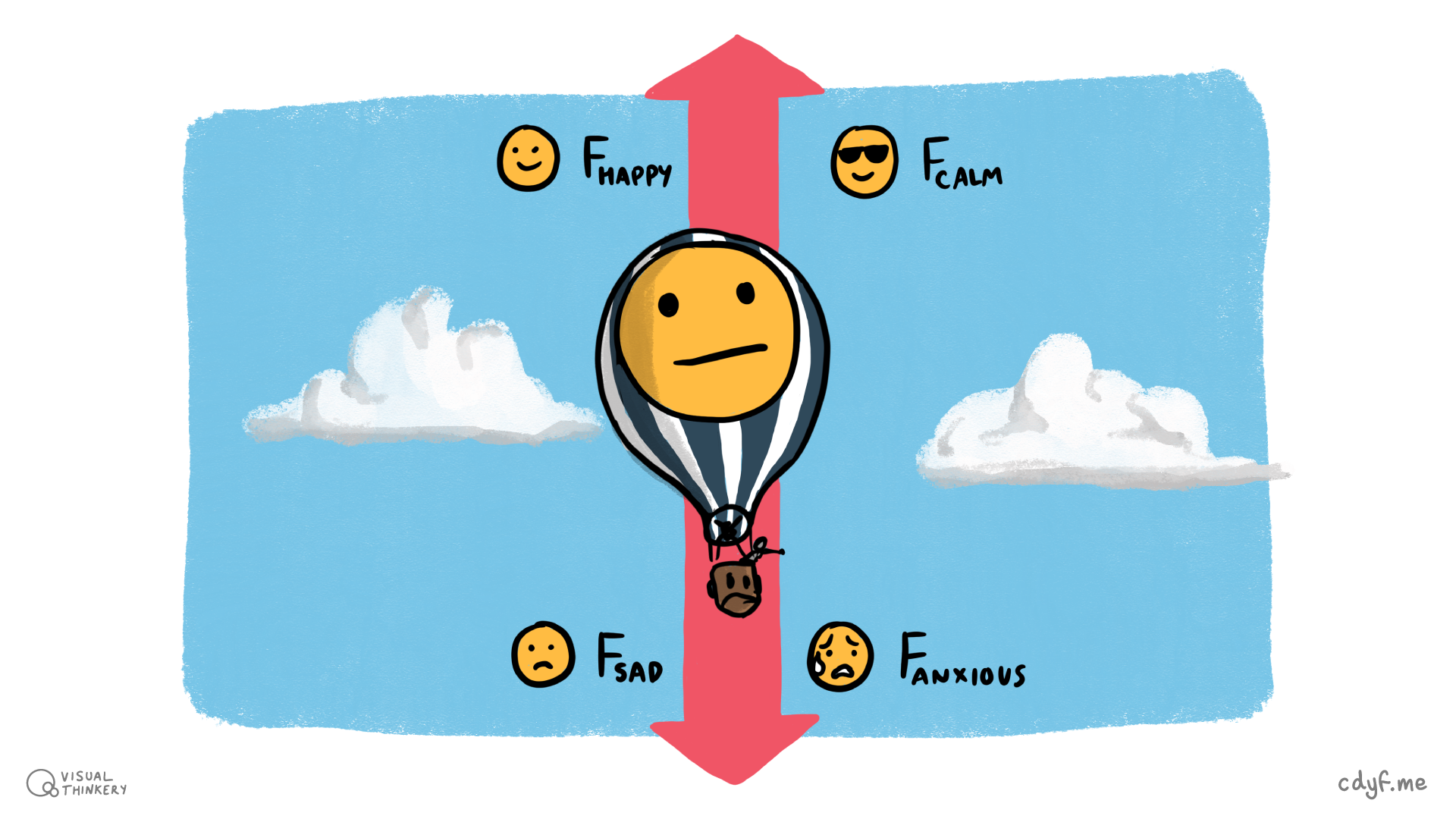 3.2.1

Anxiety

Anxiety is one of most common mental health disorders and can lead to depression, increased risk of suicide. Generalised Anxiety Disorder (GAD), a common form of anxiety is explained in the video in Figure 3.4 and at nhs.uk/conditions/generalised-anxiety-disorder. People who are affected by anxiety may struggle to function normally, and find routine everyday task difficult or impossible.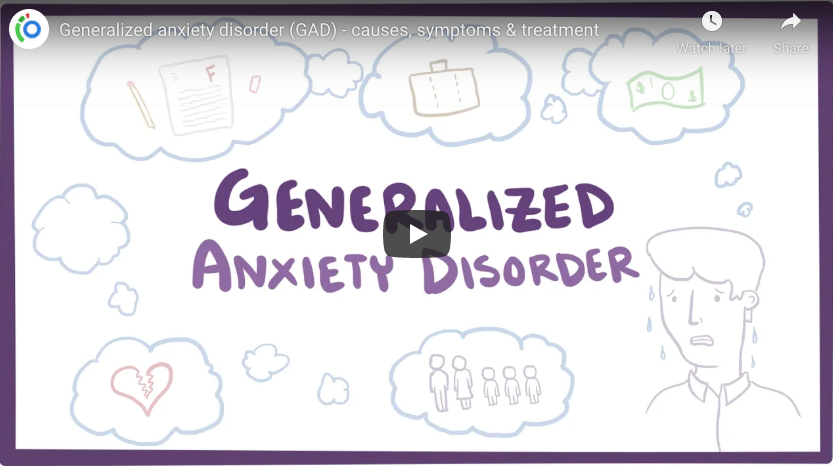 3.2.2

Depression

Millions of people around the world live with depression. If you are affected by depression it can be really hard to talk about it as there are many social stigmas around mental health. Thankfully depression is largely preventable and treatable. Recognising depression and seeking help is the first and most critical step towards recovery. To mark World Mental Health Day writer and illustrator Matthew Johnstone tells the story of how he overcame the "black dog of depression" in the video in Figure 3.5 made in collaboration with the World Health Organization (WHO).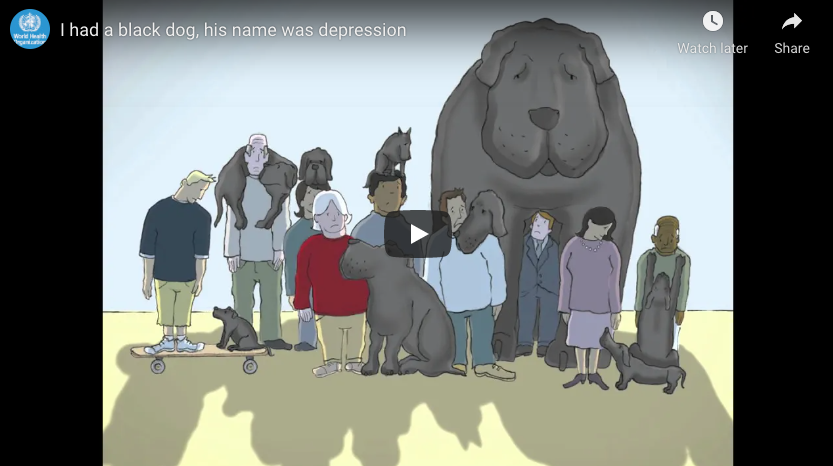 3.2.3

Drugs

Prescription medication can help some people with their mental health. For example, when I was affected by depression, Selective Serotonin Reuptake Inhibitors (SSRIs) worked for me, shown in Figure 3.6, but they don't for everybody. Sometimes the drugs don't work, they just make you worse. (Ashcroft 1997)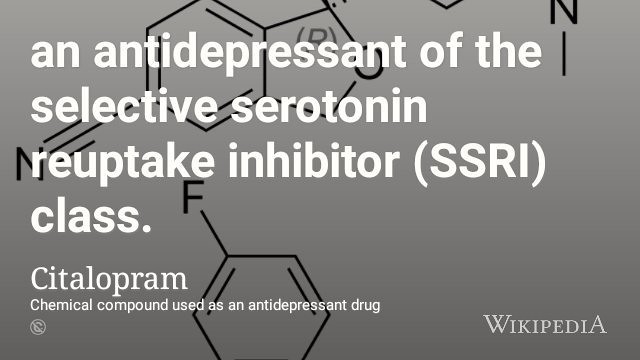 Some doctors prescribe benzodiazepines for anxiety, which may be effective where SSRI's are not, but these can be addictive and have big side effects.
It is often worth considering cognitive behavioural therapy (CBT) before taking any medication. The Science of Wellbeing (TSOWB) at coursera.org/learn/the-science-of-well-being is an easy way to access some CBT free online. See the signposts section at the end of this chapter (Santos 2021)
3.3

Look after yourself

Looking after yourself can serve to both prevent and treat mental health issues that can affect you in life. You might be your own worst critic, or perhaps when you're under pressure you neglect things that are proven to be beneficial for your mental health, like sleep, exercise, mindfulness and friendship. Looking after yourself means at least three things:
being mindful of your feelings and learning to manage your inner critic
being kind to yourself in various ways
deliberately scheduling protected time to do the non-work things that matter.
Harvard Psychologist Laurie Santos describes five evidence-based strategies for coping when times are really challenging and tough in the video in figure 3.8. Those strategies are:
Exercise: getting regular exercise improves both physical AND mental health.
Gratitude: research shows that being grateful can significantly improve your mental health. One way to do this is by keeping a gratitude journal, a log you fill in everyday of things you are grateful for (either small or big)
Sleep: actively developing healthier sleep patterns. Poor sleep hygiene can be both cause and effect of poor mental health. See the discussion of Why we sleep (M. Walker 2018) in section 3.6
Socialising: prioritise time with friends and family, rather than turning inward or diving deeper into work
Mindfulness: be mindful of emotions using the R.A.I.N. technique:

Recognise: negative emotions
Accept: accept emotions rather than fighting them
Investigate: notice how the emotion feels inside your body
Nurture: be kind to yourself, step away from your emotions by distancing yourself from them.
It can help to think of negative emotions as coming from another person, an inner critic, rather than yourself. You are not your emotions and thoughts. Laurie explains the R.A.I.N. technique in figure 3.8.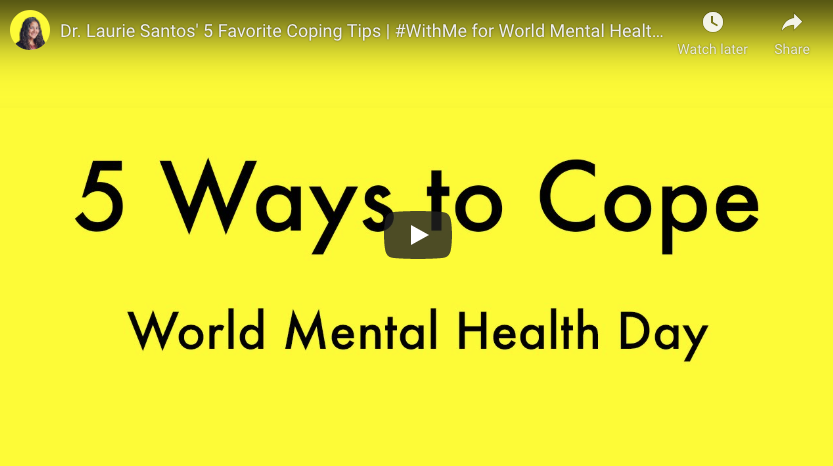 So there are things you can do to help yourself, but you may also need to seek help from others.
Sometimes a desire to be productive by working hard has the opposite effect, because the sacrifices you make can be counter-productive.
February 23, 2020
3.4

Help is available if you need it

If you are affected by mental ill health, particularly anxiety or depression, it can be hard:
to recognise that you need help in the first place
to help yourself using self-help resources
to ask others to help you
Even if you don't need help, it is important to recognise and understand the symptoms of mental ill health. It's quite likely that someone you know will suffer from mental health issues and as their friend or peer, it might be you that can help by encouraging them to get the help they wouldn't otherwise ask for.
You are not alone, help is available if you (or your friends) need it from a wide variety of sources:
3.5

Developing a growth mindset

Learning at University can be hard because you might have gone from being at (or near) the top of the class in high school to no longer being top of the class at University.

Likewise the job hunting described in chapter 8 can take a heavy toll on your mental health because repeated rejection is an ordinary part of the process. It can be time consuming, stressful and demoralising. You may find your applications disappear into a black hole. They will be ghosted (ignored) by employers. Interviewers will blank you and refuse to give you meaningful feedback because they're too busy. This could happen multiple times. This is all par for the course, normal and expected, and is not necessarily a reflection on your abilities or potential. See the examples in the coding interview section 10.2.3. (Davidova 2021)
Adopting a growth mindset can be a successful strategy for maintaining your wellbeing, see figure 3.14. If your grades aren't has good as you hoped or your search for employment is being met with repeated rejection, a growth mindset can help. Let's take rejection from potential employers as an example, there are two ways you can react to it:
Fixed mindset: responding with a fixed mindset will mean you are likely to take rejection personally. You might even assume that this confirms what you've always suspected. You're not good enough or that you made some fatal mistake in your applications or interviews. Ouch.
Growth mindset: by responding to rejection with a growth mindset, you focus on what happens next. Rejection is not failure but a "not yet" described in figure 3.15. Maybe you're not yet ready for that employer, but you'll definitely have a good idea of what you learned from the process and how can you do better next time.
According to Stanford psychologist Carol Dweck we can all be placed on a spectrum describing where we think our abilities come from. At one end, the fixed mindset assumes all kinds of abilities are fixed traits while at the other end, a growth mindset assumes these abilities can be developed over time. (Dweck 2017) There is good evidence that adopting a growth mindset will make you a better learner who can cope with the inevitable failures and rejections in life better. This approach can be used in a range of different disciplines such as learning programming languages (Cutts et al. 2010), music (Davis 2016) and job hunting.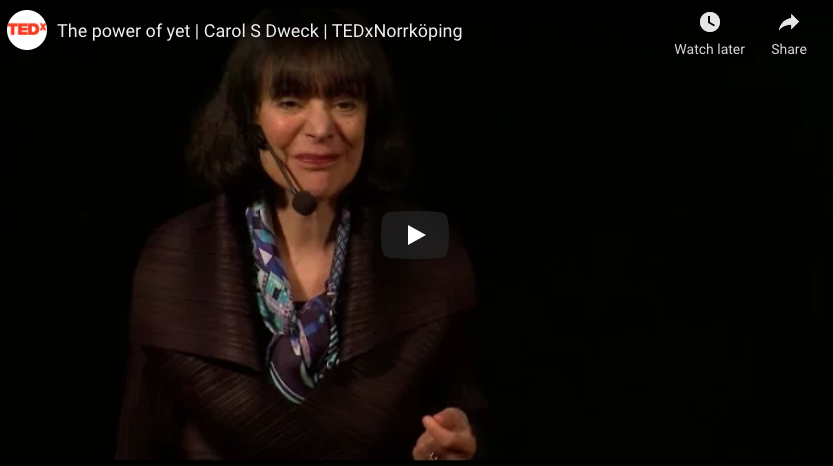 3.6

Wellbeing signposts

This chapter has looked at your wellbeing and especially the role that both your mental health and physical health play in your future. Matt Haig's first-hand accounts of poor mental health will be comforting to anyone who is affected by mental ill health. Even if you're not affected, there is a 25% chance you will be at some point in your life. There's also a high probability someone close to you will suffer from mental health issues. It might be a colleague, friend, family member, fellow student or partner, so it is worth educating yourself on the issues by reading his two short books:
Notes on a Nervous Planet is a personal account of anxiety (Haig 2019)
Reasons to Stay Alive is a personal account of depression (Haig 2016)
What's good about Matt Haig's books is they are quick and easy to read, but give plenty of first-hand insight into what mental ill-health can do to people (including you). Matt describes his top five tips for good mental health in figure 3.16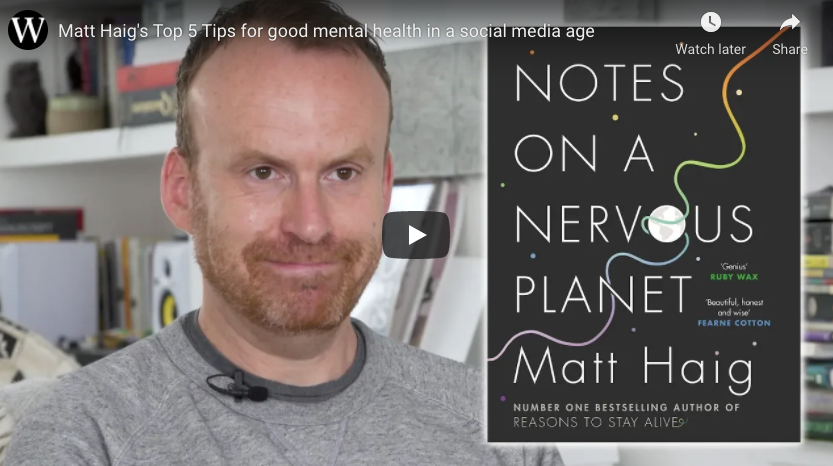 There's plenty of evidence that social media can have a detrimental effect on health. Jaron Lanier's skeptical polemic Ten Arguments for Deleting Your Social Media Accounts Right Now (Lanier 2018) is a thought-provoking romp through some of the pitfalls of social media that may have you reaching for the delete or un-install button fairly quickly. You don't have to be on social media, see figure 3.17.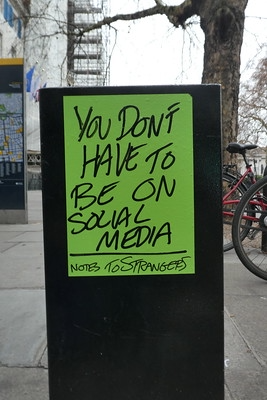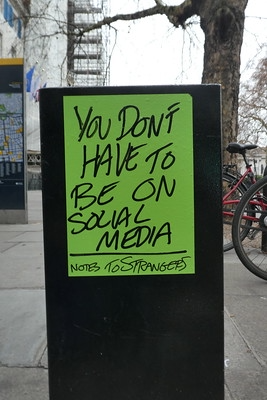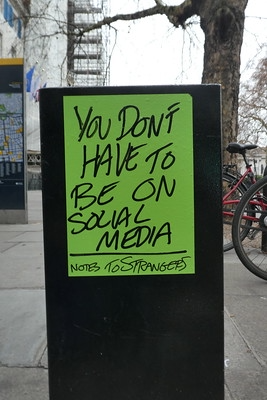 If all these books are making you sleepy, neuroscientist Matthew Walker's Why We Sleep: The New Science of Sleep and Dreams may change your view on the importance of a good nights sleep. (M. Walker 2018)
Finally, it's well worth taking a look at Laurie Santos course on The Science of Wellbeing (TSOWB) at coursera.org/learn/the-science-of-well-being. (Santos 2021) TSOWB course provides an alternative to medication as it follows the principles of cognitive behavioural therapy (CBT).
TSOWB is the most popular course at Yale University and looks at some simple techniques you can use to improve your happiness. (Shimer 2018) The course will help you increase your happiness and build more productive habits. Using the latest research, Santos describes the misconceptions about happiness and "annoying features" of your mind that can impair your well-being. The course takes about 19 hours to complete but you can spread this over a whole semester (or longer) if you choose. The short clip in figure 3.8 gives you a brief taster of Laurie's style and work.
3.7

Breakpoints

Let's pause here. Insert a breakpoint in your code and slowly step through it so we can examine the current values of your variables and parameters.
How would you describe your own state of mental health?
Do you have friends or peers who are affected by mental ill health?

What are the signs they might be suffering?
How could you support or help them better?

If you describe your own mental health as poor

Where can you go for self-help?
You are not alone but who can you talk to?
3.8

Summarising well-being

Too long, didn't read (TL;DR)? Here's a summary:

Anxiety and depression are serious conditions that are very likely to affect you or somebody close to you while you are at University. There's a one in four chance that you will be affected by mental health issues at some point in your life.

We've only talked about two particular mental health issues, anxiety and depression, but there are many other conditions such as phobias, obsessive-compulsive disorder (OCD), eating disorders, self-harm and more that are beyond the scope of this chapter. They do have one thing in common, and that is that talking about them is an important part of starting to develop better mental health.

If you are affected by mental ill health, talking about it is the first place to start, but often the hardest. In this chapter, I've outlined some ways you can help yourself alongside some of the services and people you can talk to if you need to.

Despite how you might feel, you are not alone.

Take my thoughts with you and when you look behind, you will surely see, a face that you recognise, you're not alone. (Kellett, Taylor-Firth, and Boyle 1997)