1

Rebooting your future

The first part of this book is about designing your future. So before we get started, we need to reboot and tackle a fundamental design issue. Why the hell would you want to bother reading this guidebook when you have so many other things to do right now? So:
✅ You are a busy person, YES!
✅ Your time is a precious and finite resource, YES!
✅ You could be spending that precious time right now in lots of other ways, YES!
✅ There are mountains of self-help guides and courses already, YES!
✅ Do you really need yet another guidebook? YES!
You should read this guidebook because it is different to all the other guidebooks! It will help you design, test, build, debug and code your future in computing.
Before you start coding, we need to reboot. Come with me down the rabbit hole in figure 1.1 and let me explain… 🐇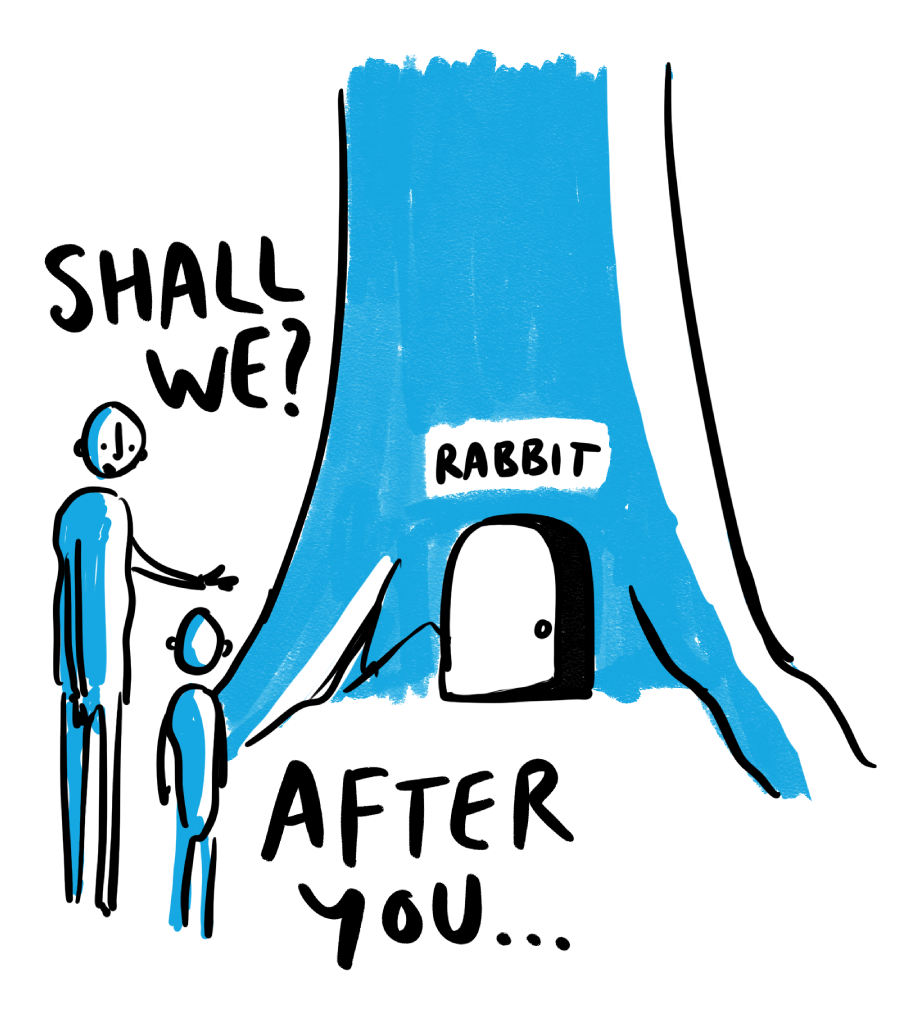 1.1

What you will learn

After reading this chapter you will be able to:
Reboot your future by

Setting your expectations for using this guidebook, and open some doors to your future
Travelling down the rabbit hole into the underworld of employment
Discussing some of the gaps that exist between formal education and employment and how you can bridge them
1.2

Let's go down the rabbit hole

In the novel Alice's Adventures in Wonderland (Caroll 1865), the protagonist Alice follows a white rabbit down a hole. What she discovers is a strange underground world populated by weird and wonderful characters. The world of work can sometimes be a mysterious underworld where you adventure in wonderland accompanied by colourful characters.

You will spend lots of time in this wonderland, potentially as much as 80,000 hours of your life. (Investor 2019, 2020) So join me down the rabbit hole, it's fun (honest), and sooner or later you'll have to come down here anyway. So open up the door to the new possibilities in your future.
1.3

Opening your future

Studying at University opens new doors to your future, some of which will take you down rabbit holes. As the poet Lemn Sissay puts it (figure 1.2):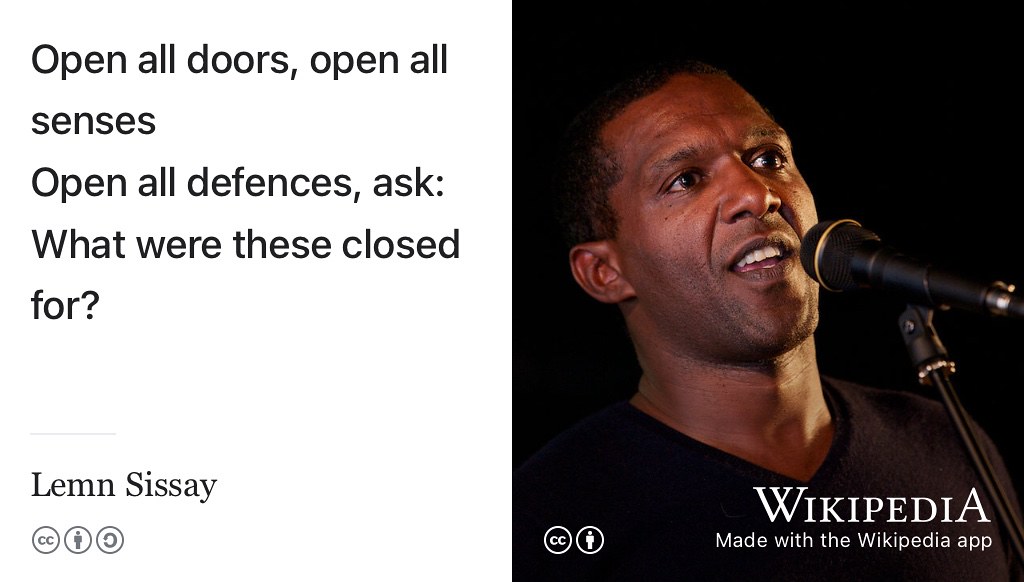 1.4

Maximising your future

As well as opening your future, studying at University is about investing in your future. You're spending lots of your time and money at University. Hopefully, you've picked a subject that stimulates and challenges you intellectually while allowing you to find and develop your unique talents. But there's another reason that you probably chose to study at University and that was to improve your job prospects. This guidebook will:
Help you maximise the return on the substantial investment of time and money (ROI) you've put into your study
Give you an overview of important professional issues that are sometimes neglected or sidelined in University curricula
Highlight and review essential resources beyond this guidebook that will help with the above
All of the resources that can help you are scattered around in lots of different places. There are books, there are videos, there are podcasts, there are websites and jobs boards. There are online courses, blogs, social media, newspaper columns, journal articles, marketing material and many other good resources. It is overwhelming.
1.5

Your future is your responsibility

When Andy Stanford-Clark started working at IBM, fresh out of University, his boss gave him the career advice shown in figure 1.3: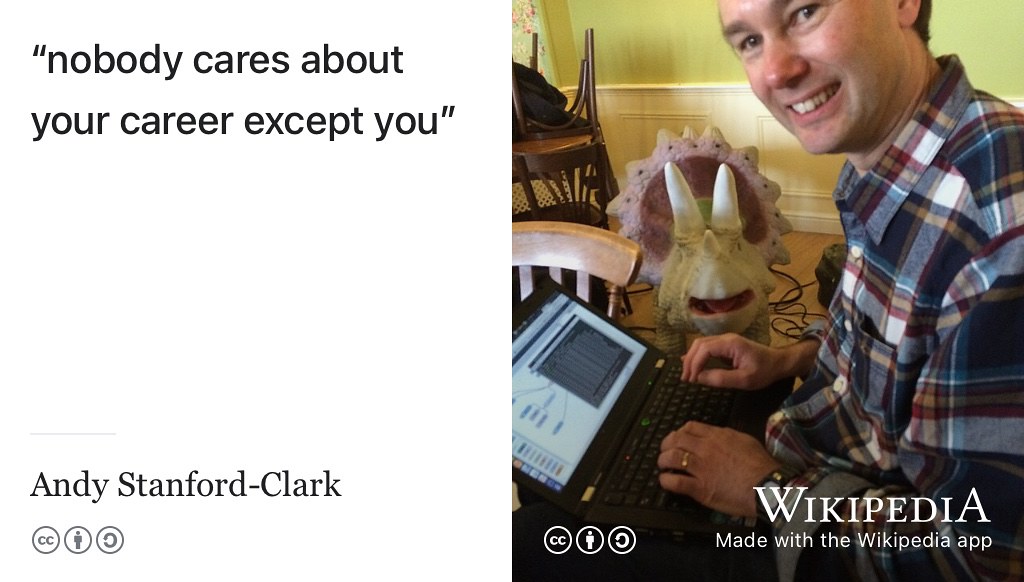 Andy is now Chief Technology Officer (CTO) and IBM Master inventor in the UK so it was probably good advice. Another, slightly more positive way of putting the advice is, the person who cares most about your career is you. So while there are people who can help design and build your future, ultimately it is YOU who has to take responsibility for the implementation (if you like, the code). The sooner you get coding the better.
At University, there are lots of people can help design and build your future: peers, friends, academic staff, your careers service, employers and your wider social and professional networks but ultimately it is your responsibility to sort out whatever comes next. That might sound obvious but don't wait for somebody else to do it for you, because it probably won't happen.
1.6

Your degree is not enough

You have worked hard to get the grades you needed to get into University. You've spent (or are spending) a significant amount of time and money studying your chosen discipline. You are really geeking out by going deep into your subject for a substantial period of time. Geekery, by which I mean being interested in a subject for its own sake, is a good thing. Earning the title geek is a compliment, not an insult, and you should wear your geek badge with pride! Some people even say the geeks will inherit the earth, see figure 1.4. You are a geek, so where is your inheritance?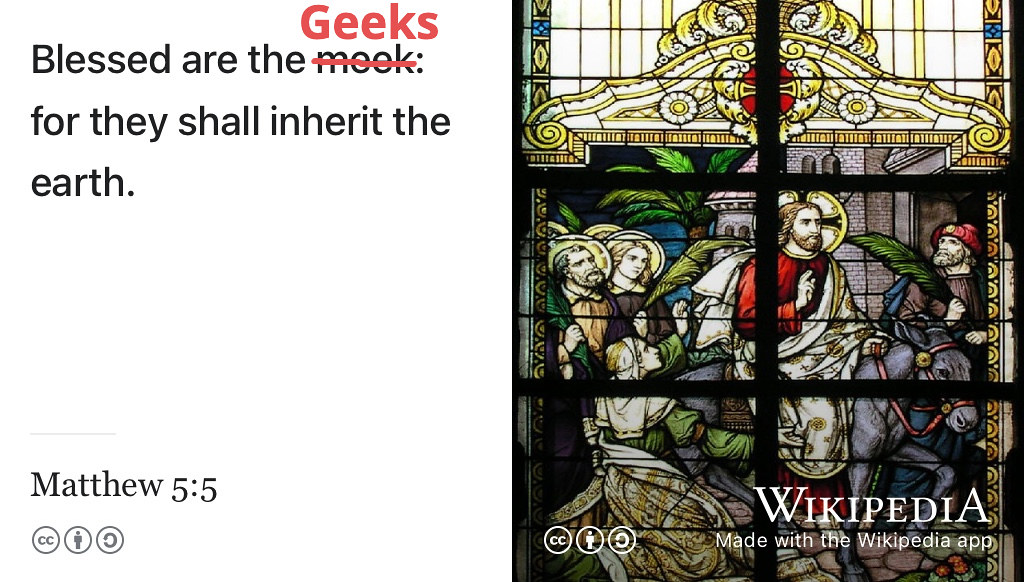 As a studious geek you might be tempted to believe that the world owes you something in return for all your geekiness. Unfortunately that's not the case.
At some point during or after your study, you might find yourself applying for a graduate job or graduate scheme. EVERYONE applying for these opportunities will have a degree or be rapidly on their way to getting one. So having a degree isn't going to set you apart much from your competition. Even having a first class degree may not distinguish you that much your competitors (Coughlan 2019a; Borrett 2019). Some employers would rather not know (or don't care) what University you went to, so your education might not make you stand out as much as you might like anyway. (Agnew 2016; Garner 2015)
What WILL distinguish you from your competitors is:
your experience, see chapter 5
your projects, see section 7.6.4
your actions, see chapter 18
any awards or honours you might have picked up along the way
If you think that your degree will be enough to get you the job you want, bear in mind that:
There are more and more graduates, the UK for example recently passed the milestone of 50% of young people going into higher education. This compares to just 15% of over 18s who stayed in higher education in 1980 (Coughlan 2019b)
The increase in the number of graduate schemes and graduate jobs has not kept pace with this growth in graduates which means that each graduate job or graduate scheme has more and more graduates applying for it
There are lots of graduates in your discipline. In the UK, for example, around 9,000 students graduate every year in Computer Science. If you're studying in the UK, what makes you different from the other 8,999 computer scientists graduating in your year?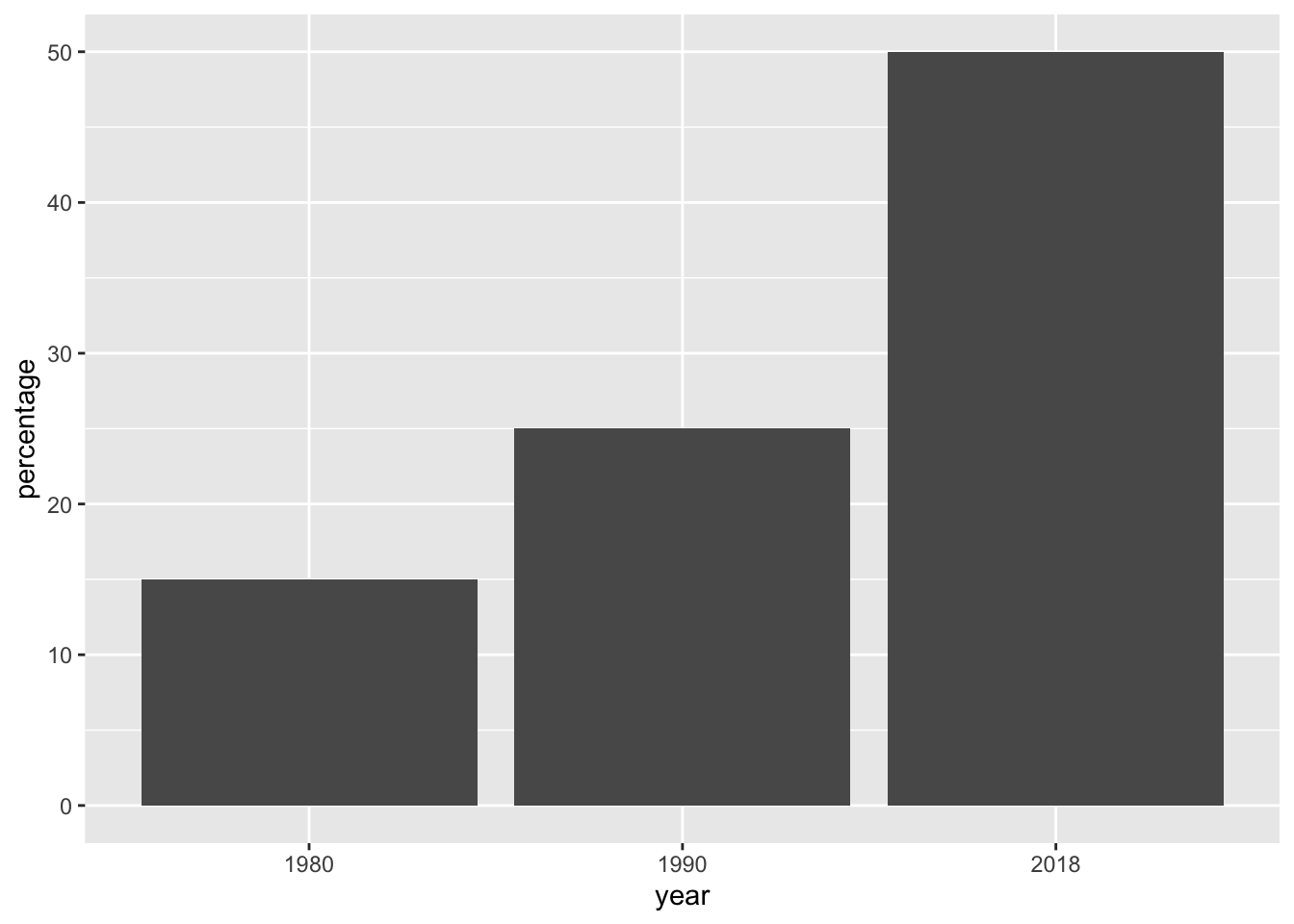 Computing is one of the largest subject areas in UK higher education, and is taught in almost every institution, graduating around 9,000 students every year –Sally Fincher (Fincher and Finlay 2016)
Now, don't be disillusioned by the statistics because a degree can open doors to many careers in computing. What the data in Figure 1.5 show is that you'll need to look beyond your formal education to distinguish yourself from your competition. Your degree can certainly help you start a career, and computer geekery is a commercially valuable skill but it is typically not enough by itself.
1.7

It's too late when you graduate

You might be tempted to postpone making difficult career decisions. I'll do it tomorrow. I'll do it next week. I'll do it next year. I'll finish this assignment. I'll finish this exam. I'll finish this semester. I'll finish my degree first, see figure 1.6. Procrastination is a part of the human condition. Software engineer Paul Graham calls this good and bad procrastination (Graham 2005).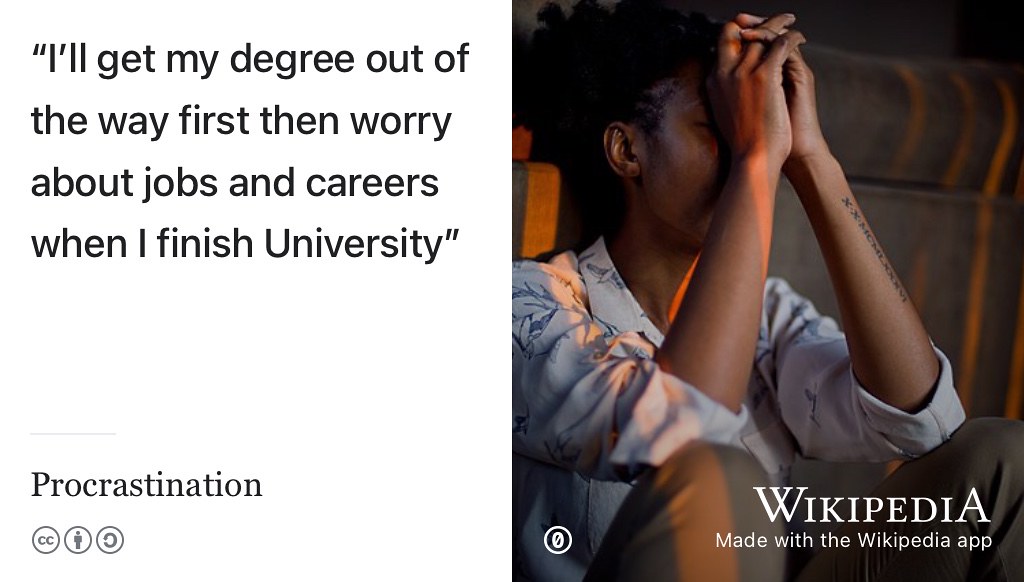 Postponing decisions about your career is usually bad procrastination. It probably doesn't help that many of issues described and discussed in this book are typically not closely integrated into the curriculum in Higher Education. You'll often find them on the edges, or completely outside of, standard University curricula.
Despite being sidelined, these issues matter and it is in your own self interests to start thinking about them right now. According to recent estimates by Investors in People, the average person spends 80,000 hours working during their lifetime. (Investor 2020) So, whatever you end up doing after University, you'll be spending a lot of time doing it. Difficult decisions often get sidelined but it is never too early to start thinking about them and doing something.
If you want to work for a big name like those in section 5.3.1 or 8.2.1, many of the larger graduate employers expect you to have some experience (see chapter 5) before you graduate. A large chunk of vacancies on graduate schemes are filled people who have already been employed as interns or placement students within that (or another) organisation. So the sooner you start investigating employers by getting some experience the better decisions you'll be able to make about what comes next. It's (usually) too late when you graduate.
That doesn't mean you have to know EXACTLY what you want to do when you finish. Lots of students don't and I certainly didn't when I graduated. I'd done a gap year teaching in India, two summer internships (in Sweden and the United States) and a year-in-industry in the UK and I still graduated with no clue as to what I wanted to do next! The important thing is that you make a start, and sometimes knowing what you don't want to do is just as valuable as knowing what you want to do.
Computer scientists call this problem "search space reduction," (Ferrari, Marin-Jimenez, and Zisserman 2008) because you have a feasible region of future possibilities and you need to narrow down the candidates. You could think of coding your future as an optimisation problem. Start optimising now because it's too late when you graduate. 🎓
1.8

Yes, this WILL be on the exam

Students love to ask their teachers "will this be on the exam?" The short answer is YES (and NO)! Yes, this will be on the exam, but NO the exam won't be set by your University. Unlike other courses you've done, the examinations for this course aren't set by your University but by employers. Roughly speaking, there are three kinds of examinations that you'll need to get good at, shown in Table 1.1
Table 1.1:

Examining your future: The "exams" used by employers, what gets assessed and the grades you can get. For written "exams" see chapters 4 and 7, for speaking "exams" see chapter 10 and for your employee "exams" see chapter 11.
Examination
What examiners are assessing
Grade
CV, application form covering letter

Should we invite you to interview ?
Can you communicate well in writing?
Do you have any experience?
Have you done any interesting projects?

pass/fail
Interview

Should we offer you a job?
Would we want you on our team?
Can you communicate well verbally?
Can you communicate well nonverbally?

pass/fail
Employee performance

Should we promote you?
Should we give you a pay rise?
Should we extend your contract?

pass/fail
So, yes, this will be on the exam, but no, the exams are obviously not set, administered, invigilated and marked by academics at your University. The exams are set by employers and the results are brutally binary:
PASS: you've got the interview, job or promotion or…
FAIL: none of the above. Next!
One of the challenging things about employers exams are, they typically do not have the bandwidth to give applicants useful feedback, other than a simple pass or fail. When it comes to job applications software engineer Gayle Laakmann McDowell calls this the "black hole." The gravitational force of employers black holes is so strong that no CV or Résumé can escape, we'll say more about this in chapter 7 on debugging your future.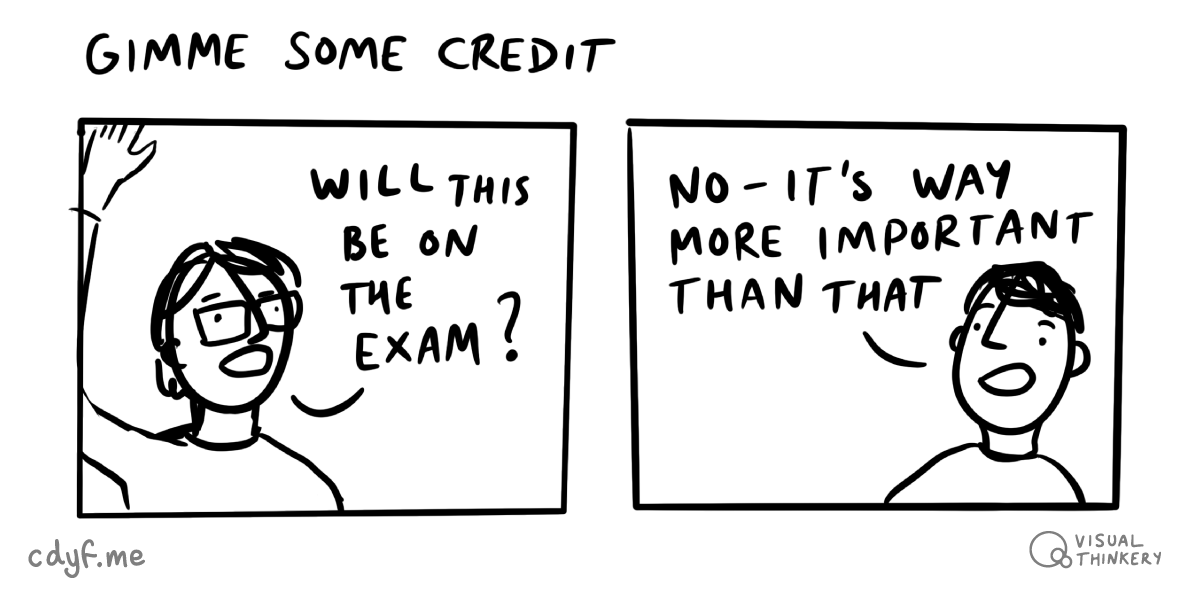 It's a similar story with interviews, if you fluffed an interview question or came across badly, it can be really difficult to find out from the employer what you did wrong. That makes it harder to learn from your mistakes.
1.9

Practicing your future

There are practical exercises, for you to get your hands dirty with. Each chapter incorporates activities including individual exercises, group exercises, quizzes and points for wider discussion. You'll get a lot more out of this guidebook by doing the activities, rather than just reading it.
1.11

Crediting your future

Get credit for your contributions. As well as being openly accessible on the web, this book is open source too. What this means is, you can contribute in several ways described in section 0.7. All the written content for this guidebook is licensed under CC-BY-NC-ND, see the license in section 0.10.1.
1.12

Your future is different

I wrote this guidebook because I needed a resource for students to help them design, build, test, hack and debug their futures. I needed a book that could help students compete for jobs while at University, or shortly after graduating. I could not find anything suitable that met all the requirements of the students I was teaching. So I wrote this one which contains some new material and recommends the best resources if you want to know more. These are found in the signposts sections of each chapter.

This book aims to combine these perspectives and to be different from existing resources in the following ways:
1.13

Engaging with your future

I've tried to make the content of this book as engaging as possible by including pictures and conversations. Your future is deliberately playful and light-hearted. If you think this guidebook can be improved, let me know via the mechanisms described in section 0.7. I always welcome constructive feedback, especially when it comes via a pull request. Engage, see figure 1.11.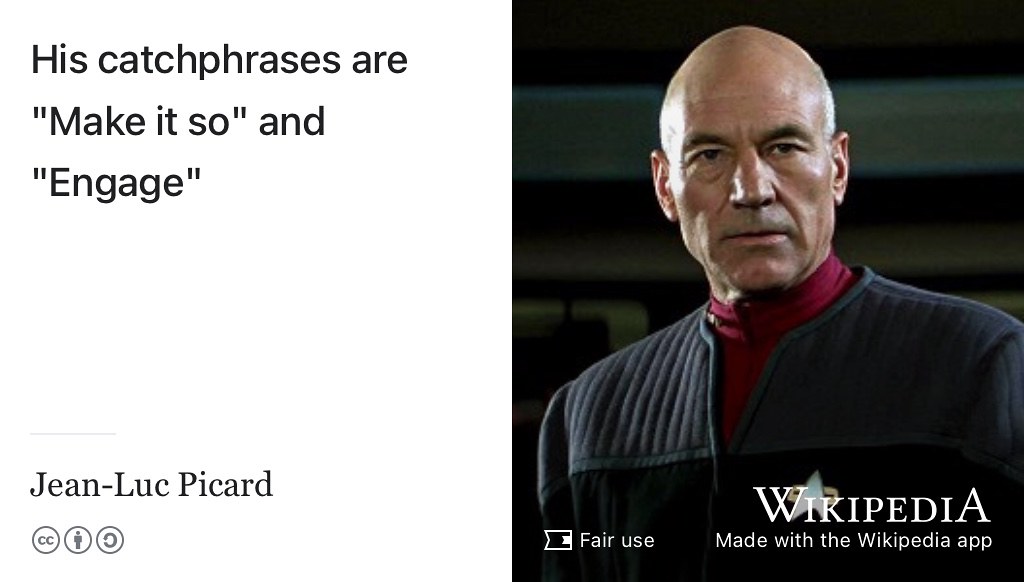 1.14

Signposting your future

Each chapter in this book has a signposts section, highlighting key reading, watching or listening you could do next. This chapter has addressed the question of why should you bother coding your future? The answer is that your future is your responsibility and no-one elses. There are lots of people can help shape your future, but none more than yourself. Software engineer Robert C. Martin argues this point in his book The Clean Coder: A Code of Conduct for Professional Programmers. (Martin 2011)

What's good about The Clean Coder is that it is short (only 200 pages), well written and to the point. The main part of the book covers professional issues in software engineering, some of which I discuss further in chapter 11, surviving your future.
1.15

Summarising your future

If all that was too long, didn't read (TL;DR) for you, then you'll be relieved to hear that each chapter has a TL;DR (executive) summary.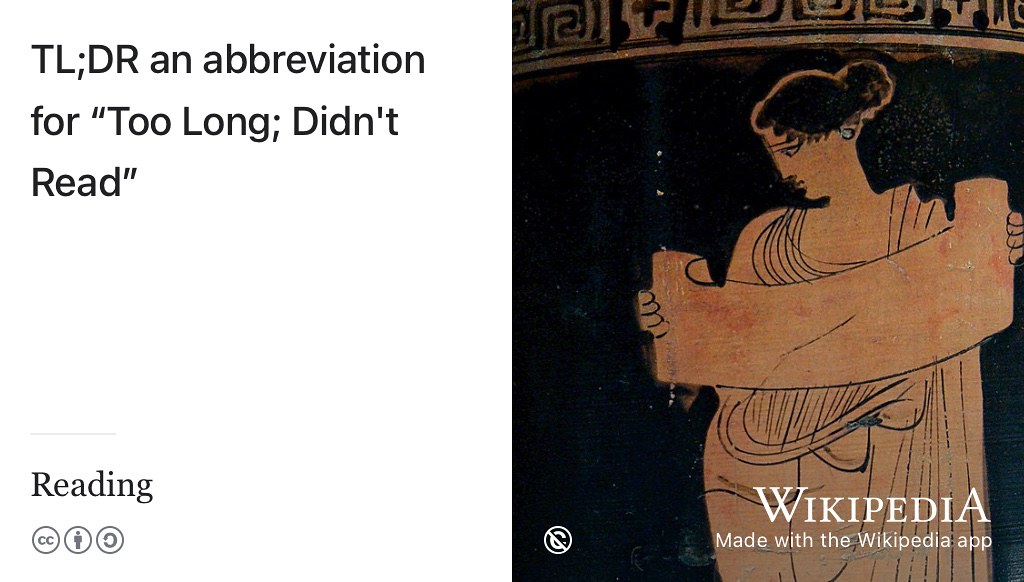 The TL;DR for this chapter is, you should read this guidebook because it is different to all the other guidebooks. It will help you take responsibility for maximising your future. No-one else is going to do this for you. Your degree will help open up future options, but it is not enough by itself so you'll need to maximise the return on your investment. Don't procrastinate because it's too late when you graduate and YES this will be on the exam (set by future employers). This guidebook has signposts to help you navigate, design, build, test, debug and code your future in computing.
It looks like the reboot has finished, so we're ready to go. In the next chapter, you will reflect on who you are. What's your story, coding glory?