10

Speaking your future

Congratulations, you've been invited to an interview. It might be by telephone, video link, in person or as part of an assessment centre where you'll be asked to complete several other tasks and tests. Being invited to an interview means that your written application (CV, covering letters, application forms or digital portfolios) has hit the target and is bug free, see figure 10.1. All that reading and writing has paid off. BULLSEYE! 🎯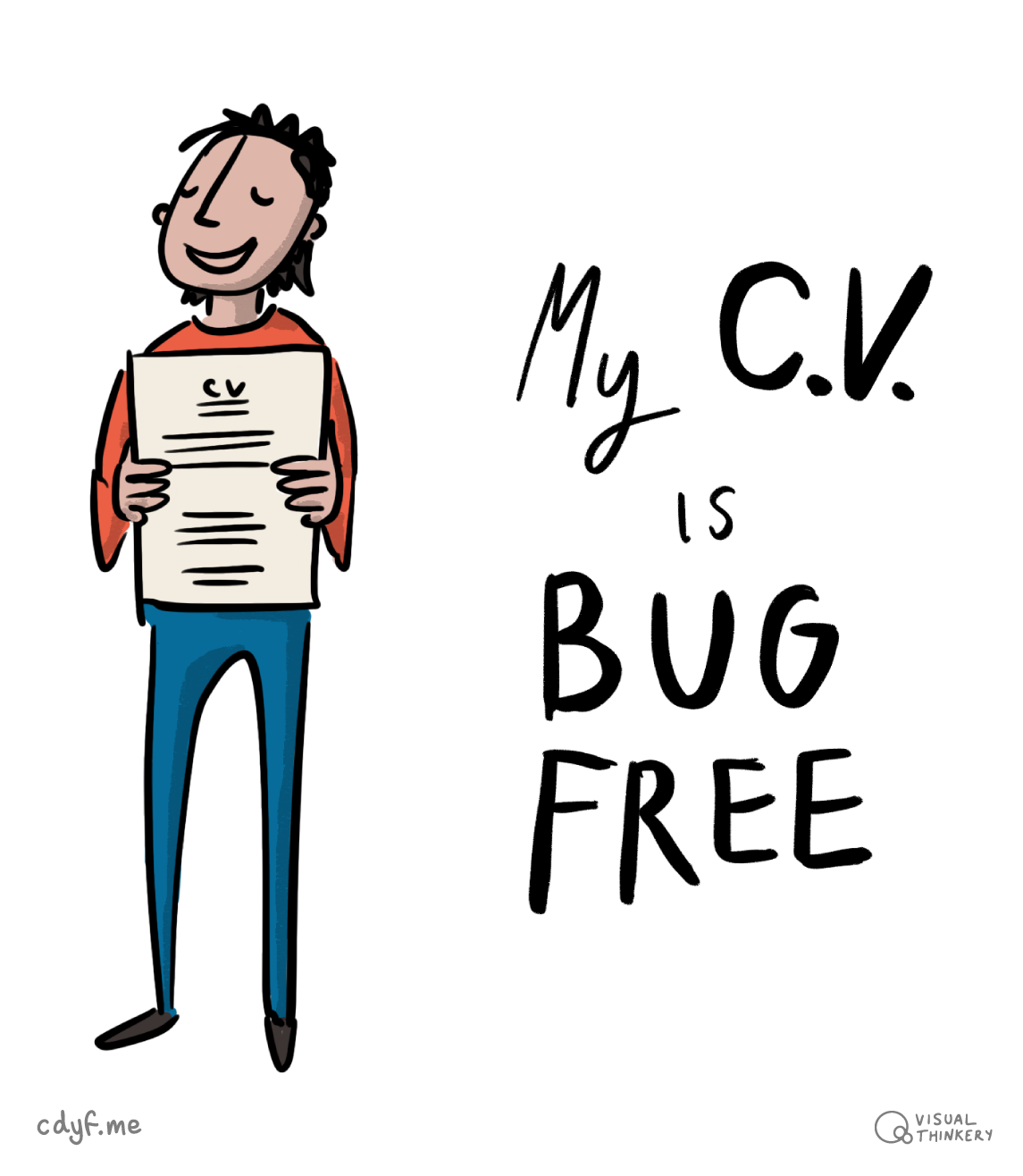 Having passed the first stage of reading and writing, you move onto listening and speaking stage of interviewing. One of your goals is to convince the interviewers that you can articulate yourself clearly, and communicate well by listening carefully to their questions and answering with spoken natural language. These are fundamental communication skills discussed in section 4.4 on communication I/O.
If you've got an interview, you can feel good about having a bug-free CV shown in figure 10.1. Now you have a new set of problems to tackle. How can you prepare for the interview? What kinds of interviews exist and what questions might you be asked? If they offer you a job, how will you negotiate the terms, conditions and salary? Do you really want the job and are they the kind of people you actually want to work with everyday? If successful, you will be giving this employer:
most of the hours of your day
most of the days of your week
most of the weeks of your year
This job will take a significant chunk of the next few months, year or even up to two years (and more) for a graduate scheme (Black 2017). It's the start of a much longer journey of up to 80,000 hours that you'll spend in employment during your life.
So you want to ensure employers are a good match and not going to waste your time. You'll be interviewing them, as well as them interviewing you, so it will pay to have some questions prepared alongside your answers to questions you can anticipate.
10.1

What you will learn

By the end of this chapter you will be able to:
Identify kinds of interviews you might be invited to
Anticipate common interview questions, both technical and non-technical
Prepare questions for your interviewer by researching the employer
Formulate strategies for negotiating job offers
Calm your interview nerves
10.2

Interviews

Broadly speaking there are two basic kinds of interviews:
non-technical interview, sometimes called competency based interview or human resources (HR) style interview, see 10.2.2
technical style or coding interview, see section 10.2.3
These can be conducted in various modes:
10.3

Breakpoints

Let's pause here. Insert a breakpoint in your code and slowly step through it so we can examine the current values of your variables and parameters.

Let's imagine you're applying to work at an employer called widget.com. During you're application you need to find out:
What the main products and services that the organisation provides?
Who are their clients or customers?
Who are their biggest competitors?
What are their values, principles and ethical policies? See section 9.6
What sector do they principally operate in?
Who are the market leaders in that sector?
How is the sector changing, for example how is technology having an impact on their business?
10.4

Summarising interviews

Too long, didn't read (TL;DR)? Here's a summary:

We've looked at a range of platforms and competitions that can help you prepare for coding interviews. These won't just make you better at coding interviews, they'll make you a better engineer too, whatever stage you're at.

This chapter is under construction because I'm using agile book development methods, see figure 10.9.